In this tutorial, we will draw a comparison between Dropbox and Google Drive.
Step 1 – Pros & Cons of Google Drive
Let us consider the pros and cons of Google Drive. Google drive works effortlessly with existing Google products. It has further improved Google Docs. However, there are certain drawbacks associated with it as well. There is no referral system; you cannot earn free space by inviting your friends to it. If you want more storage, you will have to pay for it.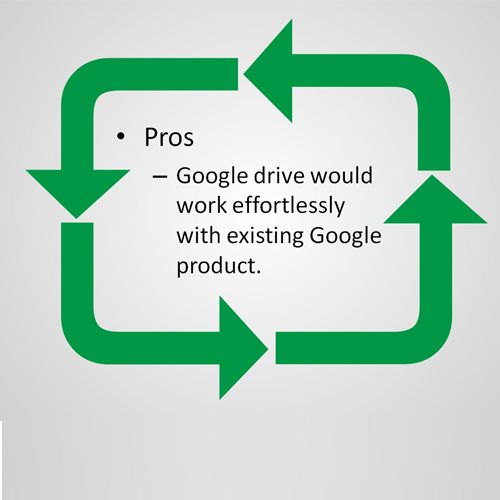 Step 2 – Pros & Cons of Dropbox
Now we will analyze the pros and cons of dropbox. Dropbox is far more easier to use and set up than most of its competitors. The cons of dropbox are that it is not efficient when it comes to collaborative work. If multiple users are using it at the same time, there are chances that it might create conflicted copies. Furthermore, there can be delays in the syncing of files.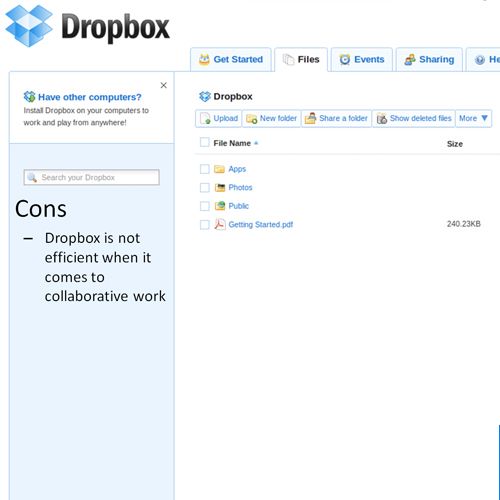 Step 3 – Compare the two
If we draw a comparison between dropbox & google drive cost wise, Google Drive will be the more economical option. It offers 25 GB for $2.49 a month against $9.99 of dropbox. Google Drive offers 5 gb for free against dropbox's 2 GB. Google Drive supports up to 30 different file types that can be opened within the browser while such features lack in dropbox.
These were the major differences between dropbox & google drive.