Transferring spreadsheet data into Word is a valuable skill to know. This tutorial is going to show you how to convert an excel spreadsheet to a word document.
Step # 1 – Copying the Data
There are two main ways to bring spreadsheet data into Word. The first option we will look at is to just to bring the data itself. Go to the Excel file with the data you want to copy. Highlight the information and right click on it and click "Copy".
Step # 2 – Pasting Just the Data
Now go to Word and right click where you want to insert the information. You will be presented with several paste options such as whether you want to paste a picture or keep the source formatting. Here we will paste with source formatting.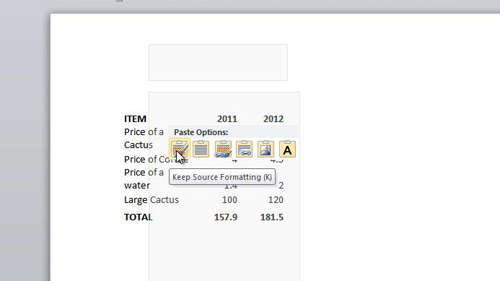 Step # 3 – Opening Paste Special Options
Simply pasting the data alone does have disadvantages. Here you can see if we change a price, the total does not adjust, as it would in the Excel file. To learn how to convert an excel spreadsheet to a word document with the formulas intact you have to "Paste Special". In the "Home" tab, located "Paste" and click the small arrow below this. Then click "Paste Special…".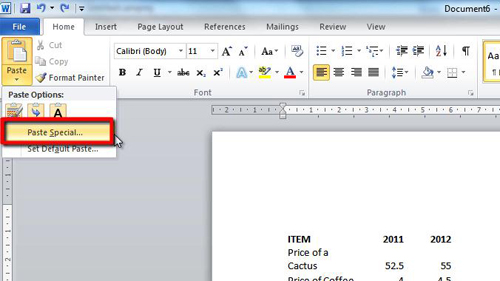 Step # 4 – Inserting a Worksheet Object
The "Paste Special" window will open. From the list of options select "Microsoft Excel Worksheet Object" and click "OK". The computer will load for a moment as the data is imported. Now if you double click on this sheet you will be able to edit the information as if it were in Excel.