Java Cache refers to small cache files which contain information about Java. These files are stored in your computer whenever you visit a webpage that has Java Script in it. Windows automatically stores website's Java details and other settings in the form of a cache on your computer. This helps the browser load the Java enabled webpage easily next time you open it. It is also recommended that Java Cache be deleted periodically so that Windows can store the latest and updated Java details. Follow this step by step guide to learn how to delete Java cache in Windows 7.
Step # 1 – Open up the 'Java Settings' Panel
In this tutorial, we will guide you on how to delete Java cache in Windows 7. For this purpose, go to the "Start Menu" and click on the "Control Panel" option to open its window. Now click on the "Java" option from the Control Panel to open its 'Tools and Settings' panel.
Step # 2 – Open Java Settings
Once you have opened the Java Control Panel, go to the "General" tab. In this tab, click on the "Settings" button which is located at the bottom of the Panel.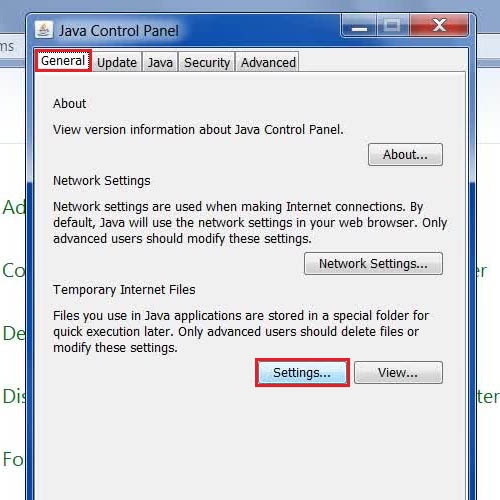 Step # 3 – Delete all Files
Once you have opened the "Settings" panel, a new window will open in front of your screen. In this window, click on the "Delete Files" button to proceed with the process of Java cache delete from your computer system.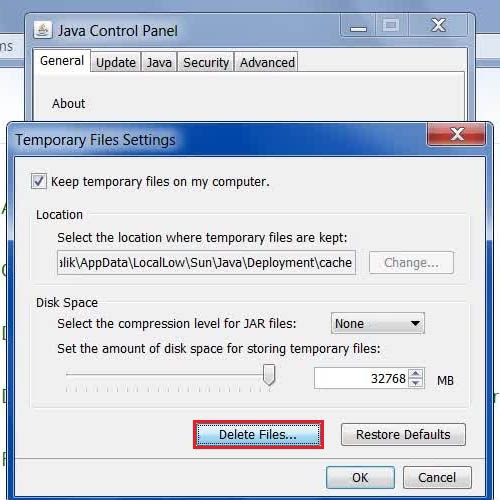 Step # 4 – Select 'All files' to delete
In the last step of Java cache delete process, select all options to enable them and click on the "OK" button to remove all Java cache files completely.