If you're looking to kill some time playing free shooting games online can be a great option. There are several websites offering these but in this example we are going to look at one of the best – Miniclip.
Step # 1 – The Different Types of Games
Open your preferred internet browser and in the address bar type in "http://www.miniclip.com" and press return. The site will load and you can see there are numerous types of games available. Shooting games tend to come in two main categories on Miniclip, "Action" and "Shoot 'em Up". Let's first have a look at "Action" by click that option at the top of the page.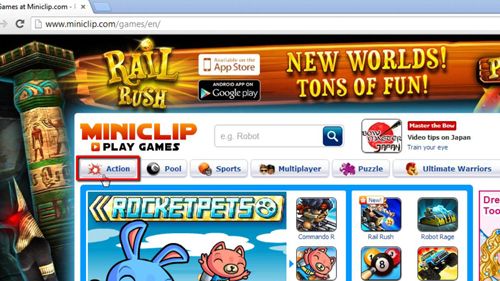 Step # 2 – Playing an Action Game
You can see on the Action page that there are many games, some of these are shooting, some are not. It's going to be fairly obvious which ones are shooting, for example it would be a good guess that "Commando" involves guns – there are guns in the picture, and, well, it's called Commando. Let's click on this one. A new page will open and the game will start to load. Click "Play", select a character and the game will load – this can take sometime depending on the speed of your internet connection. Once it loads you can just start playing the game.
Step # 3 – Playing Another Type of Shooting Game
Now let's have a look at a different type of shooting game. To the top right of the page click on the expansion arrow and a larger list of games will appear, click on "Shoot 'Em Up". All of the games in this section are going to be shooting games so simply click on one. As before a new page will load and the game will start to load. Once this has happened click "Play" and you will be able to play the game. This has just been a basic introduction into how to play free shooting games online.