In this tutorial you are going to learn how to adjust excel print area so you only print a limited part of your Excel sheet.
Step # 1 – Selecting the Print Area
Open the Excel sheet which contains the area that you want to print. Click and drag over the area you want to print to highlight it. In this example we are selecting just one part of this spreadsheet with details of names, share and take.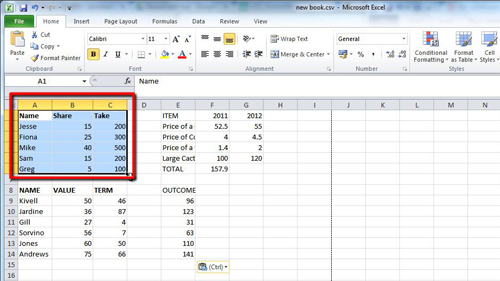 Step # 2 – Printing the Selection
In the main menu click on the "File" option and in the menu that appears click on "Print". Several new options will appear to the right of the menu. Click on the first drop down box under "Settings" and from this select the "Print Selection" option. The preview to the right will change to display just the highlighted area from earlier. Finally if you want to print this, click the large "Print" button at the top of the screen and that is how to adjust excel print area.