In this tutorial, we will teach you how to add favorites to toolbar. People add websites they keep visiting regularly to their favorites. This makes it easier to access these websites.
Step 1 – Enable Favorites bar
Follow this step by step guide to learn how to add favorites to toolbar.
First of all, click on the internet explorer icon in order to open it. For the purpose of this tutorial, we have already enabled the command bar. We will go to the command bar and click on the tools option. From the drop down menu, we will go to toolbars and select the "favorites bar" option. This will enable the favorites bar and it will appear side by side your command bar.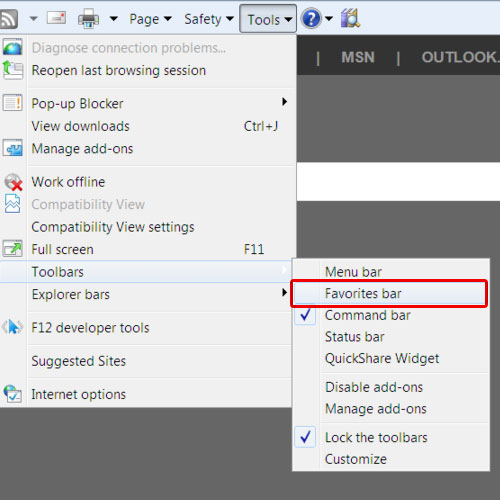 Step 2 – Add a website to favorites
Now open any web site that you want to add to your favorites. Enter the address of the web site in the search bar and hit the enter key on your keyboard. Once the web page loads, click on the star icon available on the extreme left of your favorites toolbar. This will add the web page to your favorites and the web page will be available on the favorites toolbar.