Unfortunately it is not possible to entirely delete a Skype account. So you cannot learn how to close Skype account permanently. However, you can remove all personal details from your account profile, so that people cannot search for you in Skype using any of this information. Although nor personal information will remain in your profile, people can still search for your Skype name.
Step # 1 – Sign in to Skype and edit your profile
Open Skype and Sign in. From the menu, click "Skype – Profile – Edit Your Profile…".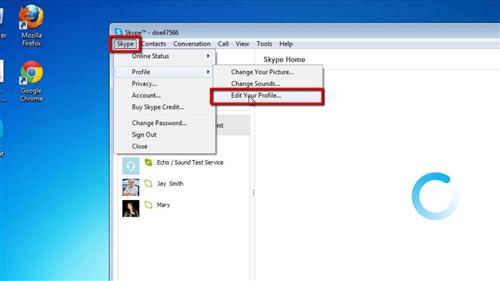 Step # 2 – Remove all the details from your profile
Your profile details will appear in the right hand pane of the main Skype window. Delete as much personal information as possible, such as your picture, your contact details, your name, etc. You should be able to delete everything except your Skype name. You cannot delete or change your Skype name after its creation. The personal information present in your profile will vary, depending on which information you have previously provided. This is as close as you can get when learning how to close Skype account permanently.