In this tutorial you are going to learn how to post pictures on craigslist which can be a great way to increase the chance of your item selling.
Step # 1 – Creating the Listing
Start by going to your local Craigslist – here we are using the London version of the site but the process will be the same wherever you are based. Click the "post to classifieds" link in the top left of the page. Select the type of item you are offering, and if necessary specify further on the next page. Now you will need to enter some information about the product, such as a title, price, location and description. You will also need to provide your email address. Click "Continue" when done.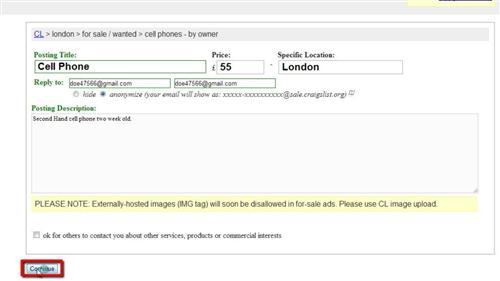 Step # 2 – Uploading Images for Listing
On the next page you can upload some images. Click on the "Choose File" button and select one image from your computer, it will upload and appear on the page. To add an additional image click "Choose File" again and repeat the process. You can add up to eight images. When finished click "Done with Images".
Step # 3 – Placing the Listing
You will be redirected to a page showing a preview of your ad, click "Continue" at the bottom of the page. Now open a new tab and go to your email inbox, open the email from Craigslist and click the link within the email. In the tab that opens click "ACCEPT the terms of use". You will be told that you ad has been posted and you can click the link here to see the ad and that is how to post pictures on Craigslist.