In this tutorial you are going to learn how to use craigslist edit and delete a post that you have previously made. 
Step # 1 – Accessing the Editing and Delete Options
To access the editing settings of your post you will need to locate the email that you got from Craigslist when you first posted the ad. Open this email and you will see a link, click this. A new tab will open and at the top of this you will see a green box with options to both edit and delete your advert.
Step # 2 – Editing the Posting
Let's first have a look at editing the posting so click on the "Edit this Posting" button. You will be taken to a window that looks the same as the one you saw when you first posted the ad. Here we are going to change the price, but you are also able edit the title and description if you wish. Click "Continue", then "Done with images" then "Continue" again. On the next page you can click the top link to see your updated ad, as you can see here the price has been successfully changed.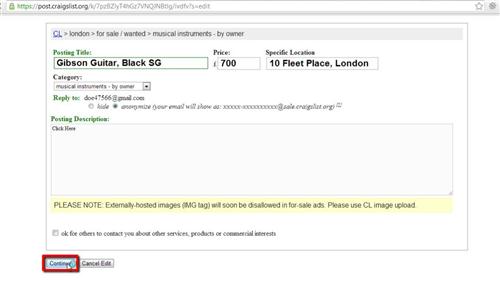 Step # 3 – Deleting the Posting
Now let's have a look at deleting the post completely. Go back to your email inbox and click on the same link as before. This time click on the "Delete this Posting" button in the page that loads. Confirm the action by clicking "Delete" once again and that is how to use craigslist edit and delete.