This tutorial is going to show you how to post your resume on Craigslist which can be a great way to find a job.
 
Step # 1 – Finding the City Where You Want to Post Your Resume
Start by either creating a resume in Word or opening one that you already have. As you can see here we already have a resume open and this is the one we are going to be posting on Craigslist. Open your preferred internet browser and visit the website "www.craigslist.org". Scroll down the page until you find the city where you want to make your resume available, here we are going to the "Europe" section, then clicking "London".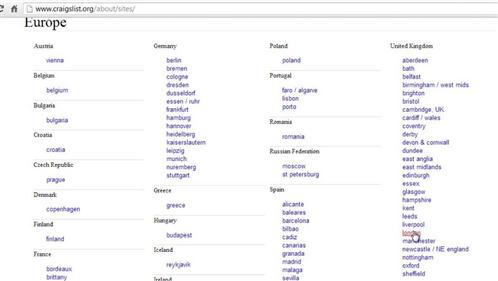 Step # 2 – Entering Information for the Post
On the London page, click the "post to classifieds" link in the top left of the page. On the next page click the "resume" option. In the "Posting Title" section enter something catchy to draw attention to your resume. Also enter a location where you want to work, if you are flexible, say so.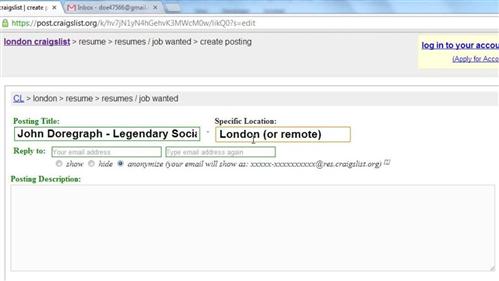 Step # 3 – Pasting Your Resume
Now, go back to the resume in Word and press "Control" and "A" and then "Control" and "C". Go back to Craigslist and click in the "Posting Description" area and press "Control" and "V". Enter your email address into the "Reply to" field twice and make sure that you delete it from any place it appears on your resume. Click "Continue" at the bottom of the page.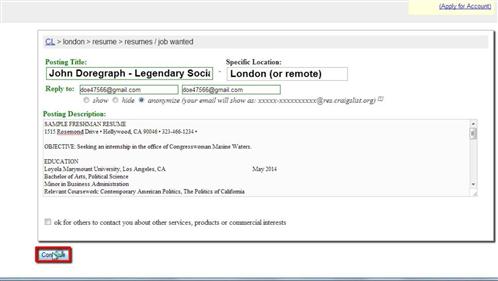 Step # 4 – Posting Your Resume
You will then see a sample of your resume, read it to make sure there are no mistakes, then click "Publish" in the top right of the window. Now, open a new tab and go to your email inbox. Open the new email from Craigslist and click the link inside it, a new tab will open and you need to click "ACCPET the terms of use". You will then be told that the posting has been completed and you can simply follow the link on this page to see your posting live on Craigslist and that is how to post a resume on Craigslist.