In this tutorial, you will learn how to process Ebay return.
Ebay returning policy varies from seller to seller and it is important to take note on it before actually committing to buy on Ebay. We've assembled five different shipment cases with different return policies that cover the regular spectrum of Ebay returns. Let's have a look.
Step 1:
The first seller makes no claims of return policy on his listing, but only mentions he is delivering the item "as is". This means that we shouldn't wait for the seller to offer aftersale services like returning. The listing itself makes it also clear: no returns accepted. This is the case where the seller is most indifferent to the buyer.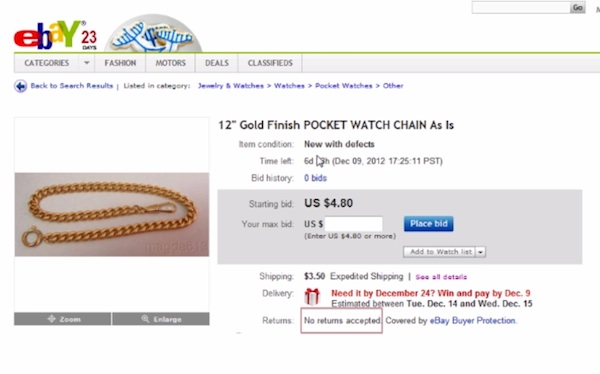 Step 2:
On a second listing that we selected, the seller already offers a 7-day money back return policy. If we dive in to the item description, we will also notice that there is a return policy in place, and the buyer refunds the item without shipping and handling, but the procedure for return seems rather lengthy. This is another case of return for an ebay order.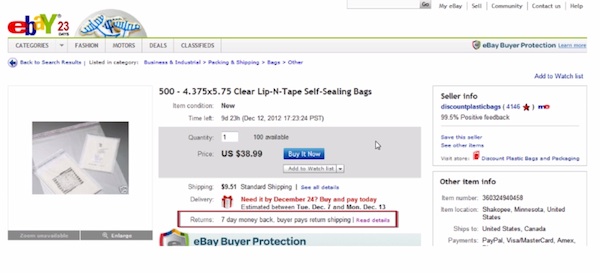 Step 3:
The third seller also offers a money back guarantee, plus he also covers the return shipping. This is important: such sellers state in fact that they are so confident in the quality of their merchandize that they're willing to put their money on if you have any problems with the bought items. It speaks about the quality of the product, as well about the quality of the seller.
This is also confirmed by the smallprint in the listing description but, if we study it carefully , we see a strict procedure and a 20% restocking fee for return. Note taken. Sometimes the actual return policies on ebay are different in reality than in their appearance. We'll move to the next one.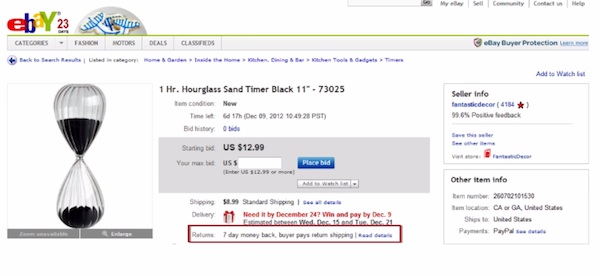 Step 4:
This seller offers 30 days money back guarantee; let's see the description. As we see, there is an extended returns policy in place with this seller and it covers a decent range of cases, it means the seller is in business for quite a while and stroke out to create a reputation for himself.
Good, we can certainly take advantage of that. Let's see the last case.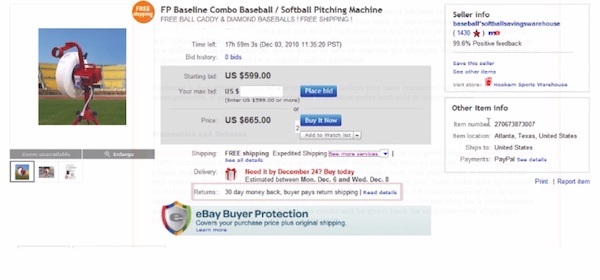 Step 5:
This one has a 14-days return policy, and a specific return policy section in the item description. It is a proof of client-aware seller and usually a mark of good business.
With this, we have covered the most common situations one can have for returns on ebay.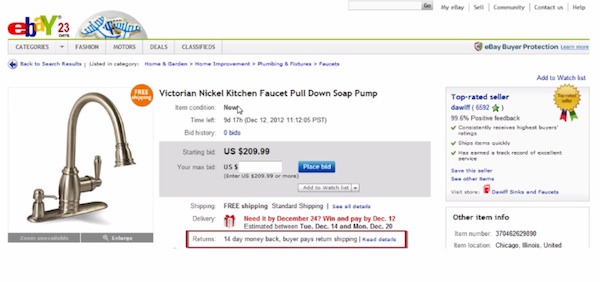 Step 6:
Apart from this, we will now show you the new return policy that ebay offers to their selling clients, should they opt in to use it. The video is created by ebay and used here only as information. To know more about this topic, check ebay.com/returns.
Result: Congratulations, you have learned how to process Ebay return.