In this tutorial you are going to learn how to sell items on Craigslist effectively.  
Step # 1 – Selecting the Right Category
First, you will need to navigate to your local Craigslist, here we are using the London version. At the top left of the page click "post to classifieds". If you want your item to sell then getting it in the perfect category is important, click the "for sale" option then carefully choose a category for your item. Here we are choosing "Computers – by owner".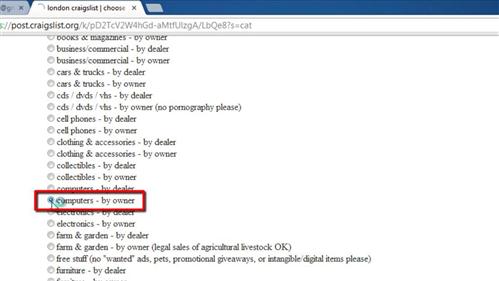 Step # 2 – Creating a Good Headline
Now you will be able to enter information about your item, this is where you can be creative and really sell your item. Start with the headline, using an asterisk at the start and end can help the headline stand out. Make the title specific as this will make it easier to search for – we will enter specific information about our computers power. Now, enter a price, location and your email address.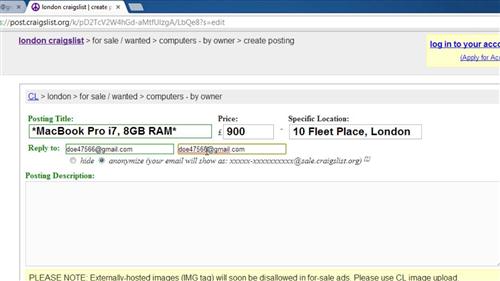 Step # 3 – Entering a Winning Description
The description will be the most crucial part of the advert. Be as detailed as possible about the item, include all the information you have about it. You should also carefully describe its condition, it might be tempting to say the condition is better than reality, but don't do this, the buyer may change their mind when they come and see the item – wasting both of your times. You should also include the original retail price of the item. When you are happy with your description click "Continue".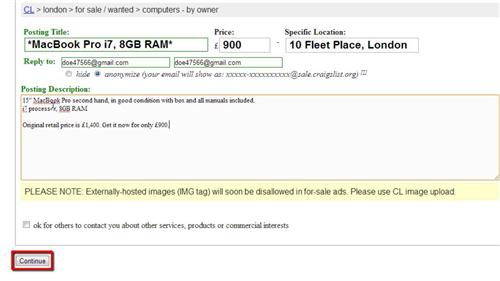 Step # 4 – Adding Images
You will then be asked to add images. This is essential as images will definitely help to sell your item, click "Choose File" and locate the images on your computer – the more you add the better. When uploaded click "Done with Images". Click "Continue" at the bottom of the page that loads.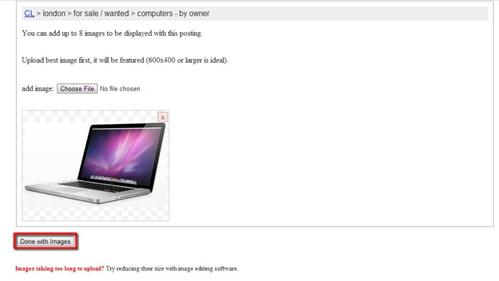 Step # 5 – Confirming the Posting
You will now need to confirm the posting. Open a new tab and navigate to your email account. Open the email from Craigslist and click the link within it, click "ACCEPT the terms of use". The advert will now be live and you can view it by clicking on the link on the next page and that is how to sell items on Craigslist effectively.