This tutorial is going to show you how to enable audio in windows 7 by activating an audio device that has become disabled.
Step # 1 – Opening Manage Audio Devices
Click on the start orb and then click "Control Panel". In the window click on the "Hardware and Sound" link and from the new options look for the "Sound" heading and under this click "Manage audio devices".
Step # 2 – Disabling an Audio Device
In this window we are able to see the various audio devices associated with our computer. In the "Playback" tab we can see the speakers and these will be the perfect audio device to use for this tutorial. Right click on them and click "Disable". The audio device will have disappeared from the list.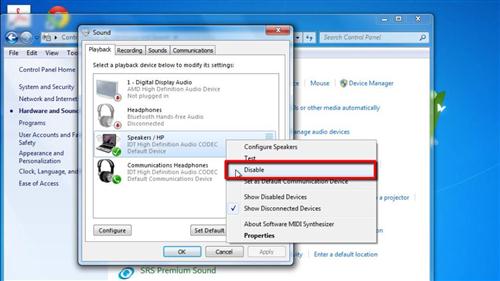 Step # 3 – Enabling the Speakers
Now, to learn how to enable audio in windows 7 first you need to right click anywhere in the box and click the "Show Disabled Devices" option. The speakers will appear again, but they will be greyed out – indicating that they are disabled. Right click on them, click "Enable" in the menu and they will become active once more. Click "OK" to close the window and the process is complete.