This tutorial is going to show you how to disable startup programs Windows 7 which can be a great way to speed up the booting speed of your computer.

Step # 1 – Finding the List of Startup Programs
Click on the start orb and in the "Search programs and files" field type "msconfig" and press return. The "System Configuration" window will open and from the tabs at the top you need to click "Startup". This will give you a list of all the items on your computer that launch when Windows starts.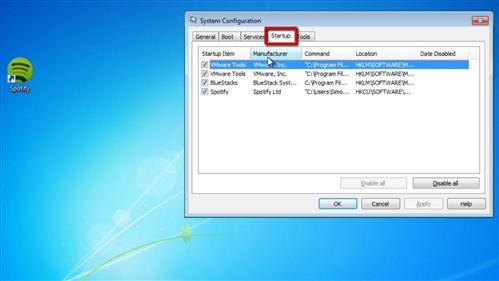 Step # 2 – Choosing the Programs to Prevent Running
To make this list easier to manage increase the width of the "Startup Item" column. This column tells you the name of the program that is launching at startup. In order to prevent this program from running you need to deselect the checkbox next to it. Go through the list and uncheck all the programs that you want to stop running on startup. Just to be safe, don't uncheck anything that you don't know what it is. When done, click "OK" and then click "Exit without restart" – the changes will be applied next time your restart your machine and that is how to disable startup programs Windows 7.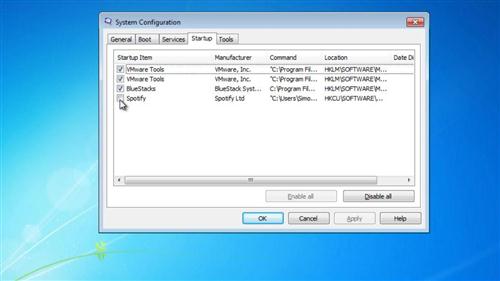 Step # 3 – Testing Out the New Boot
To make sure that this process has worked, restart your computer. We chose to disable Spotify from starting when the computer boots and as you can see the program no longer loads on startup as it normally would.