Windows 7 allows the user to perform several tasks simultaneously. The operating system has made multitasking very easy. You can work with multiple windows or programs in Windows 7. However when multitasking, the screen tends to become a little untidy and messy in the process. The windows and the programs running in the background might make it a little hard for you to focus on the active window you are currently working on. In this tutorial, we will teach you how to minimize all the inactive windows with the help of keyboard shortcuts. Follow this step by step guide to learn how to shift focus to a single window in windows 7.
Step # 1 – Open Multiple Windows
First of all, open multiple programs and windows that usually run on your computer. Over here you can see that we have opened a "My Documents" directory, window's default image directory and a folder which is associated with music files. Now as you can see that it is a bit irritating and hard to focus on the program on which you are currently working. Other programs and windows which are running simultaneously are being displayed in the background.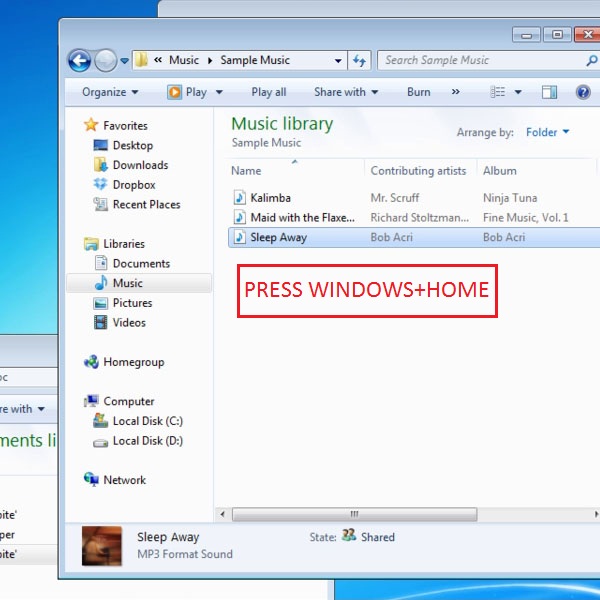 Step # 2 – Using the Focus Option
Now in order to focus on the window on which you are working, there is a shortcut available for you in windows 7. First select the window which is currently being used. Once the window has been selected, press the "Windows" key which is available at the bottom of the keyboard right next to the "Ctrl" key. While holding down the "Windows" key, press the "Home" key which is usually available at the right hand side of the keyboard. This will automatically minimize all windows which are inactive at that time and let you focus on the active window with a clear desktop background.
This is a very simple and useful shortcut for minimizing inactive windows. However if you wish to restore or maximize inactive windows again, press the "Windows" key along with the "Home" key again to restore or maximize all opened windows to their default state.