In this tutorial you are going to learn how to get a medical diagnosis online using an automated service.

Step # 1 – Navigating to a Symptom Checker
First you are going to need to navigate to a site which has a web diagnosis facility, visit: "symptoms.webmd.com". On the page that loads you will see the interactive "Symptom checker".
Step # 2 – Selecting a Diagnosis Area
Before you start entering your symptoms you'll need to enter some personal details. Enter your age and gender, then check the box at the bottom and click "Submit". You can then use the body map on the left of the screen to select the area you want a diagnosis for – here we are selecting the arm.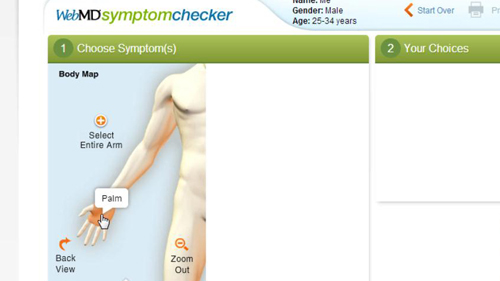 Step # 3 – Getting a Possible Diagnosis
After selecting a general area you will be able to more precise, here we are choosing the palm of the hand. On the right a choice of symptoms that might relate to the palm will load, select the one that relates to you. Here we are selecting "cold hands" and in the second area this choice will appear. In the third area some possible conditions will appear. If you have additional symptoms enter these as well and the diagnosis will adjust.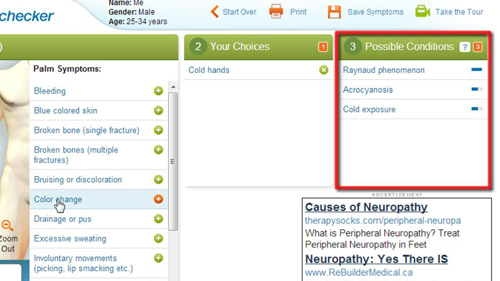 Step # 4 – Finding Out About your Diagnosis
Now that you have your potential conditions click on one to get more information about it and that is how to get a medical diagnosis online.