After some time Windows can slow down and you will want to improve its performance. To optimize windows 7 there is a useful built in tool, this tutorial shows you how to use it.

Step # 1 – Open Performance Troubleshooter
Click "Start" then click on "Control Panel" in the right hand column. In the "Control Panel" window find the search box in the top right hand corner type "troubleshoot". A list will populate, and click on the option called "Troubleshooting". On the next screen scroll to the bottom and click "Check for performance issues".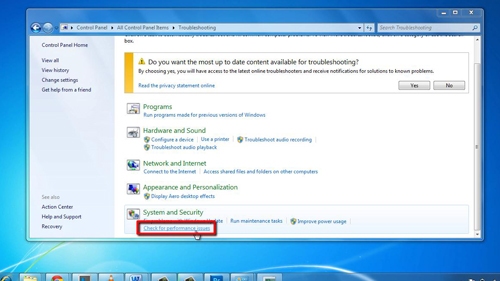 Step # 2 – Stop Startup Programs
This will open the utility to optimize windows built into Windows 7. In this new window click "Next", Windows will begin to detect problems that might be slowing down the computer. You will be presented with a list of programs you might want to prevent running at startup, check any boxes that you want to prevent running. Click "Next".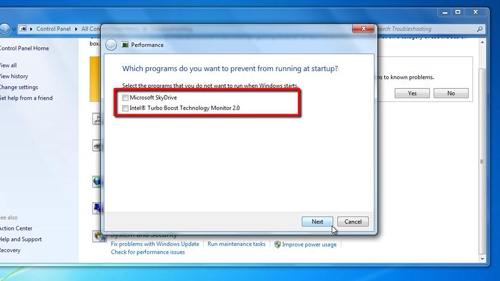 Step # 3 – Solving Additional Problems
Windows will now look for additional problems and will create a list of any detected issues. To repair these problems you need to click on the "Try these repairs as an administrator" option. In this example it is going to attempt to log off other users and further limited the start up programs.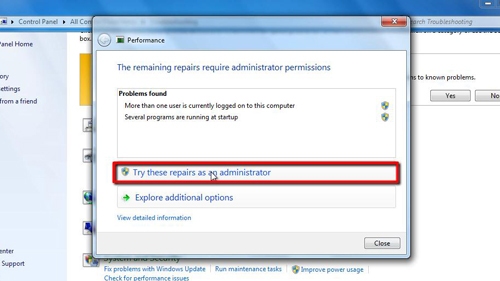 Step # 4 – Following the Troubleshooters Advice
The troubleshooter will allow you to log off the other user, so go ahead and do that. It will also present you with a larger list of start up programs which you may wish to limit. Here we are preventing "Adobe Acrobat", "Java Updater" and "Real Player" – all programs which are non-essential. Click "Next" and then "Close" and this should give you Windows system improved performance.