Selling on the internet often attracts fees but there are plenty of places to post ads for free online. This tutorial is going to take you through some of the most popular. 
Step # 1 – Craigslist
If you are based in the US then the largest and most famous of these sites will be Craigslist. The website can be found at "www.craigslist.org". From this main site you can find your state and then just click on the relevant city below this. Once the page has loaded you can see that there are many subsections where you can buy things. If you want to sell you just have to complete the simple listing process by clicking "post to classifieds". There are no charges for posting on Craigslist.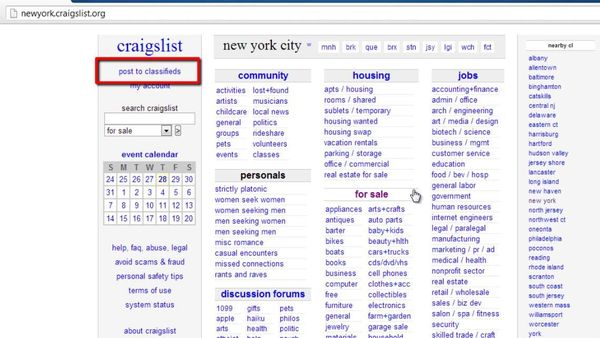 Step # 2 – For those outside of the US: Gumtree
While Craigslist is probably the most popular site for free adverts in the US, it doesn't have the same kind of presence in Europe. The London version of Craigslist for example doesn't have nearly the same number of postings as the New York version. In the UK (as well as Australia) the site Gumtree is more popular. This site can be found at "www.gumtree.com" for the UK, or "www.gumtree.com.au" for Australia. As you can see on the UK site there are many options like on Craigslist, as well as the ability to just search the Gumtree site for your local area. Adverts placed on Gumtree are free although it is possible to pay a bit extra to have your advert 'featured'. These are just two ways to post ads for free online.