Many users preferred the look of Windows Vista. This tutorial will show you how to install a windows vista theme for windows 7.

Step # 1 – Downloading the Vista Skin
First off you will need to download the skin that you can use on your Windows 7 installation. Open your preferred internet browser and visit the site: "www.askvg.com/download-windows-vista-theme-for-windows-7". Scroll down the page and click on the "Download Vista theme for Windows 7" button. A file will start to download, wait for this to complete.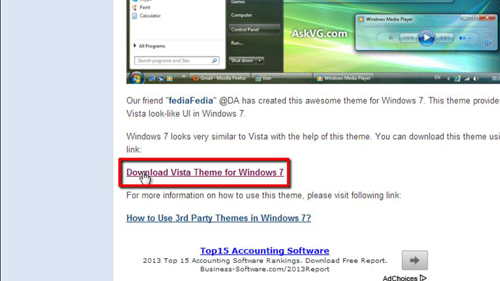 Step # 2 – Allowing Custom Themes in Windows 7
In order to install this skin a quick patch needs to be made to Windows 7 as users cannot install third party skins by default. Click on the second link on the same site that reads, "How to use third party themes in Windows 7". Scroll down the new page to the "UxStyle" section and click "Download Link". Wait for this file to download. When it has completed click on it to open the folder and run the file that matches your operating system (x64 for 64 bit systems, x86 for 32 bit systems). Click "Run" in the dialog box that appears, accept the agreement and click "Install", click "Yes" in the dialog box that appears. Click "Finish" and the window will close, patch complete. Restart your computer.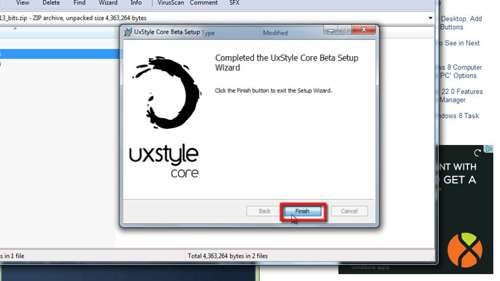 Step # 3 – Installing the Custom Theme
Once your computer has restarted, navigate to the "Downloads" folder and open the zip folder called "vista vs for windows". Open the folder within that. Copy the folder called "Vista VS" and the "theme" file called "Vista VS". Click "Start" then "Computer" and navigate to "C", "Windows", "Resources", "Themes" and paste the files into this folder. Click "Continue" if a dialog box appears. Now, double click on the "Vista VS" theme file and the theme will be applied to the computer and that is how to get a windows vista theme for windows 7.