In this tutorial you are going to learn how to use credit card online which can be a great way to pay for things online.
Step # 1 – Choosing an Item to Buy
Using a credit card online is likely to be similar at any major retailer. For this example we are going to show how to use a credit card on Amazon. From the Amazon homepage search for the item that you want to buy and from the options that load click on the item that you want. On the page that loads click the "Add to Cart" button.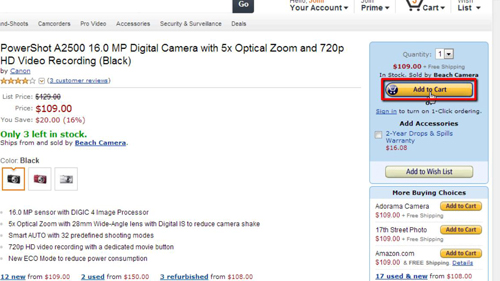 Step # 2 – Entering Shipping Info
A new page will load and you need to click "Proceed to Checkout". At this point you might need to sign into you Amazon account again. You'll then need to select an address to ship to, do this and click "Ship to this address". Choose your shipping option and click "Continue".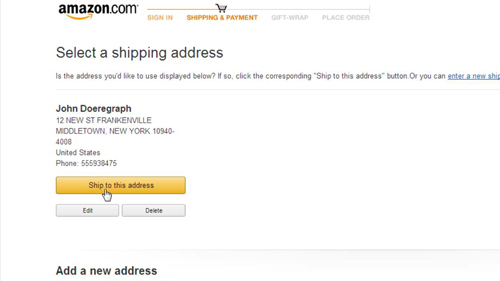 Step # 3 – Entering Your Credit Card Information
You will now have to enter your credit card details to pay. You are being asked for your card number and name on card. It is important that these match the exact number and name on the card, when you have done this click "Add your card" and the card will appear as a payment option above. Click "Continue" on the right.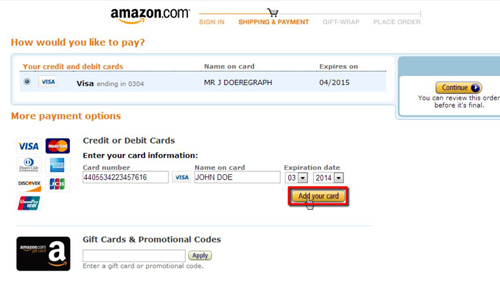 Step # 4 – Completing the Purchase
You will also need to enter your billing address as an additional security measure. Here it is the same as our shipping address so we will select "Use this address". You will then be taken to the final checkout screen and you should review everything then click "Place your order". As this is just a tutorial we are not going to complete this purchase, but that is how to use credit card online on Amazon and the process will be similar for other major retailers.