In this tutorial you are going to learn how to delete email on iPad.
Step # 1 – Navigating to an Email
Generally the iPad when being used with Gmail will prefer to either archive your emails or move them to the temporary trash folder, rather than delete them completely. To get past this touch the "Mail" icon on the home screen then click on the email that you want to delete. The email will load to the right and you need to touch the icon that looks like a folder with an arrow on it.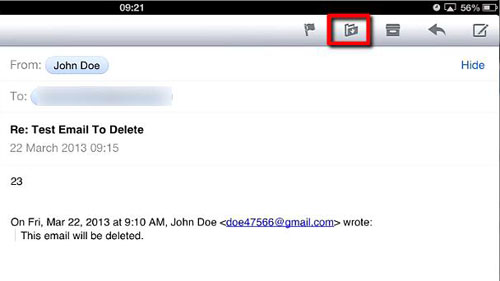 Step # 2 – Deleting the Email from Trash
A menu will appear on the left and you need to click the "Trash" icon. The email will be moved to this folder, but it hasn't yet been permanently deleted. Touch "Inbox" in the top left of the screen then touch "Gmail". Open "Trash" and you will see the email in here, swipe you finger from left to right across the message and a red "Delete" button will appear. Touch this and the message will be permanently deleted from your system and that is how to delete email on iPad.