Learning
how to delete email account on iPad
can be useful if you do not want to receive emails from one of your accounts any more on your iPad.
Step # 1 – Locating Your Associated Email Accounts
From the home screen touch the "Settings" icon. In the menu on the left touch "Mail, Contacts, Calendars". On the right the "Mail" settings will load and at the top of the window you will see all the email accounts associated with the iPad. Here we have both Yahoo and Gmail accounts.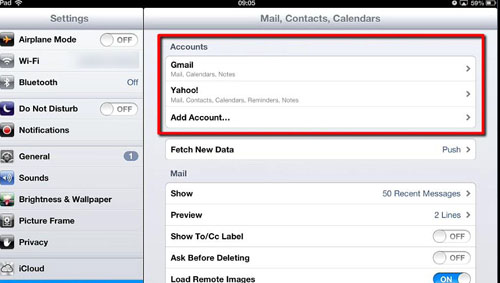 Step # 2 – Deleting an Account
For this example we are going to be deleting the Yahoo account so we only get our Gmail emails on this device. Touch the "Yahoo!" option and a window will appear with a large "Delete Account" button at the bottom – touch this. You will be asked to confirm that you want to remove all data associated with this account from the iPad, touch "Delete". The window will disappear and you will be returned to the previous screen, you will notice that the Yahoo account is no longer listed and that is
how to delete email account on iPad.