Once you have created a style you might realize there are too many style options available but none of them. You can easily thus delete these styles or edit them according to your preferences using MS Word 2010. This office 2010 tutorial is about how to modify or delete styles previously created.
In this tutorial you will specifically learn How to do edit and delete styles in Microsoft Word 2010.
Step # 1 – Select the Style for Modification
You must firstly have a style in mind in order to make changes to it. Let's say you have already created a style before. Now you must go to the 'styles' option and click on the dialogue box launcher arrow. Here you will be able to see various styles, and the one you have created previously. In a new document, type some text and then select the style you would like to apply. Let's say in this case you want the 'Essay' option to be applied on the text selected. All you must do is highlight the word you wish to format, and then select 'Essay' in order to apply changes.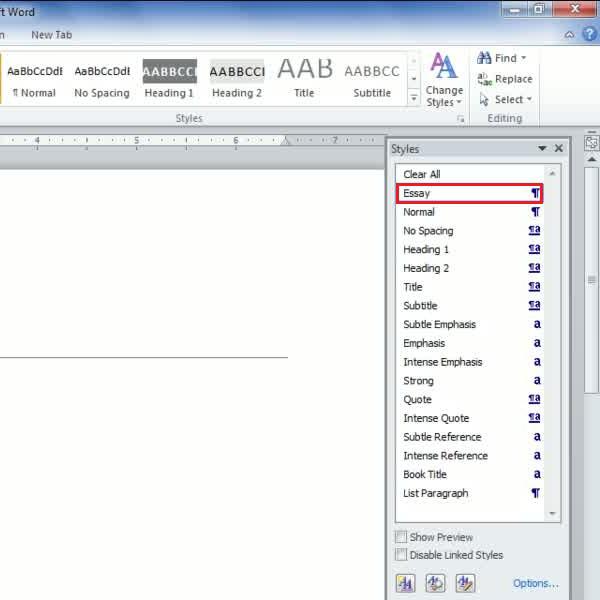 Step # 2- Modify a Style
You can now click on the style previously selected, for example 'Essay' and a drop down box will promptly appear on your screen. You must further click on the drop down arrow and then select 'Modify'. Once this is done, a dialogue box for the 'Modify Style' option will open ,using which you can modify the format of a specific style i.e. font style, font size and color.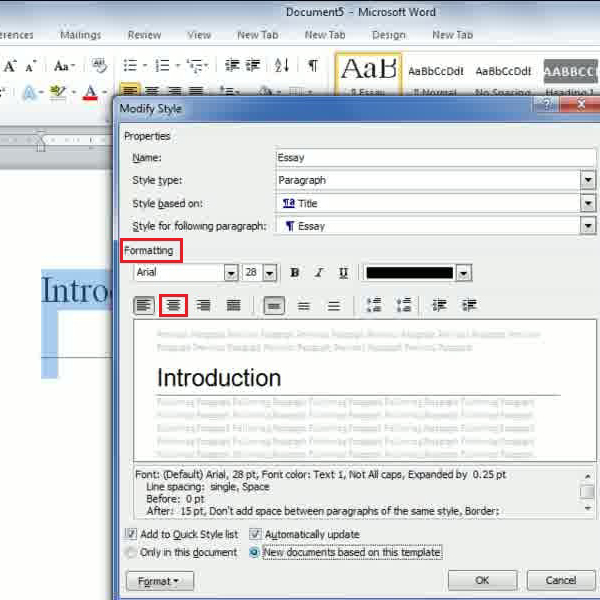 Step # 3 – Modify For All:
Now a style has been made and modifications have been saved which can be applied to any document you like. You now have to decide whether you would like to apply the changes made to the current document only or to all future documents too. You can make your decision by using the options given in the lower part of the same 'Modify style' dialogue box.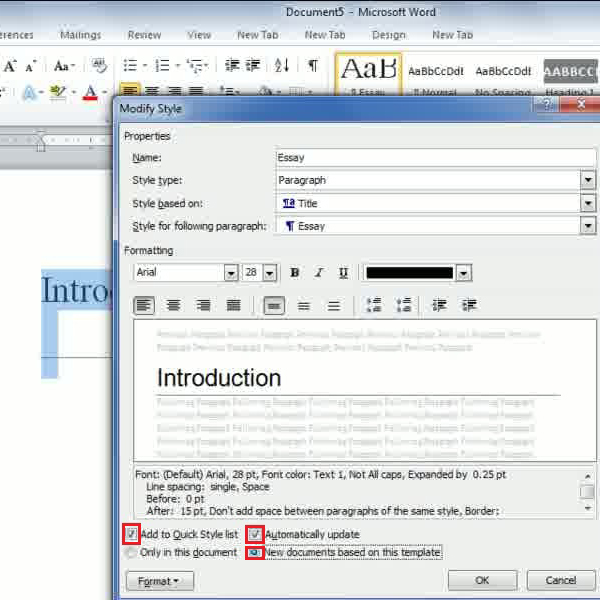 Step # 4 – Delete/Revert a Style:
Once you open the drop down menu of a specific style, you will probably notice an item in the given options titled 'Revert to Title'. The function can be used to remove any particular style from the list of styles. You can do so by first going to a particular styles' drop down menu and then selecting the option named 'Revert to Title'. Once you click choose and select this option, the particular style chosen will not appear in the list of styles anymore.