Creating a contents page for a PDF is not a default feature of Acrobat, but it is possible to create a table of contents in PDF using a few links.
Step # 1 – Creating the Non Interactive Table of Contents in Word
Start Acrobat and open the document that you want to create a table of contents for. Now, open Microsoft Word and use this program to create a non-interactive version of the table of contents. Go through the PDF and make a note of all the headings in the Word document that you want to appear in your table of contents. Once you have done this save the Word document and make sure that you select the PDF option from the drop down box.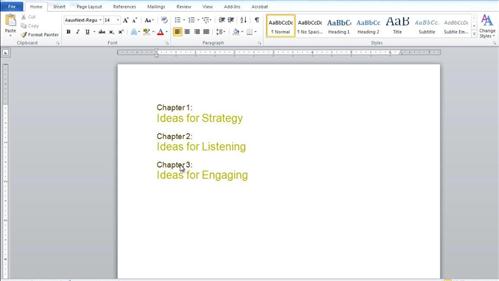 Step # 2 – Inserting the Contents Page to the Existing PDF
Go to Acrobat and click the "Insert page from another file" icon at the top of the program. Locate the table we just created and click "Open". From the drop down box select "Before" then choose the first page and click "OK". You will now see that the table of contents has been added in front of the PDF document.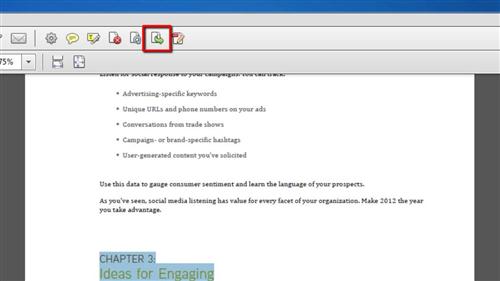 Step # 3 – Creating the Link Area
Now we have to make the links on the contents page interactive. Click the "Tools" button in the top right of the program and then click the "Content Editing" tab that has appeared. Click the "Add or Edit Link" button and then draw a rectangle over the first title in the start menu you want to make a link. Set the "Link Type" to "Invisible Rectangle" and make sure that the "Link Action" is set to "Go to a page view". Click "Next".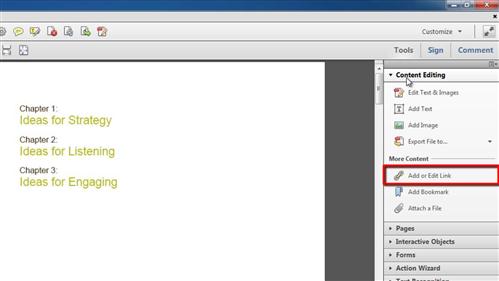 Step # 4 – Completing the Links and Testing Them
You now need to set the destination for the link. Visit the page you want it to link to and click "Set Link". You will need to repeat this process for all of the links in your contents page. In this example we'll just do the one and test it works. Save the PDF and close Acrobat, now, navigate to the file on your computer and open it. When you hover your mouse over the link you will notice that it is interactive, simply click to follow the link and that is how to create a table of contents in PDF.