Follow this step by step guide to learn which one is better: Google Drive or Skydrive.
Furthermore, we will draw a comparison between Google Drive and Skydrive.
Step 1 – Pros & Cons of Google Drive
Let us consider the pros and cons of Google Drive. Google drive works effortlessly with existing Google products. It has further improved Google Docs. However, there are certain drawbacks associated with it as well. There is no referral system; you cannot earn free space by inviting your friends to it. If you want more storage, you will have to pay for it.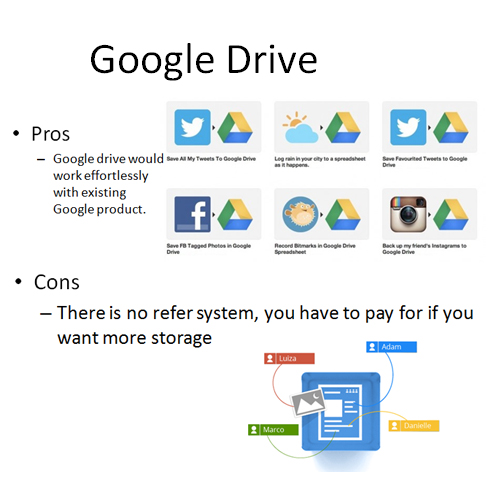 Step 2 – Pros & Cons of Skydrive
Let us consider the pros and cons of Skydrive. One of its advantages is that it has a huge storage capacity. It offers 7 GB worth space with a maximum of 50 MB per file upload. Skydrive is integrated with Microsoft Office 2011. This allows you to send your work to Skydrive account right from the File Menu. Furthermore, you can have SkyDrive automatically resize photos that you have uploaded. It also allows you to create public and private folders. Its drawbacks are that managing files is cumbersome. You cannot select multiple files or move an entire folder. The drag and drop feature is missing as well. Furthermore, there is no application for mobile OS as yet other than windows 7 phones.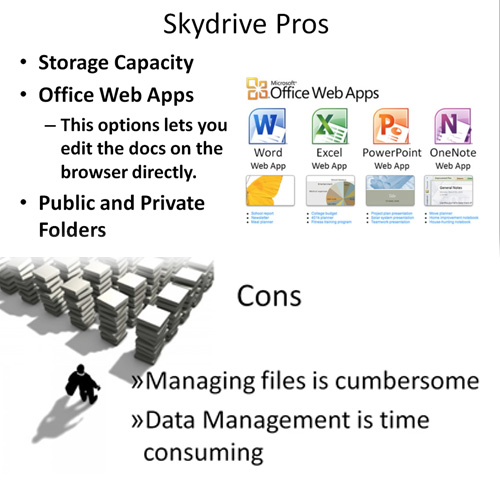 Step 3 – Compare Google Drive with Skydrive
Now let us compare the two. Skydrive offers 7 GB worth free space while Google Drive only offers 5 GB. You can pay $2.49 a month to get 25 GB in Google Drive. Thus, Skydrive is more economical. However, Google Drive outshines Skydrive in the total amount of upgradable space. Skydrive tops out at 100 GB while Google Drive goes all the way upto 16 terabytes. As far the platform support is concerned, Skydrive supports two mobile platforms: IOS and Windows Phone while Google Drive only has an android app. Both are head to head with one another and it won't be fair to say that one is ahead of the other at this point in time.