This tutorial is going to show you how to work out the eBay shipping cost for an item that you have purchased.
Step # 1 – Viewing Postage Options
Go to eBay and find the item that you want to buy. Here you can see that we have an item that is located in the UK and we are going to see how much it would cost to ship to various locations and at various speeds. Look for the "Postage" section and click the "See details" link within this.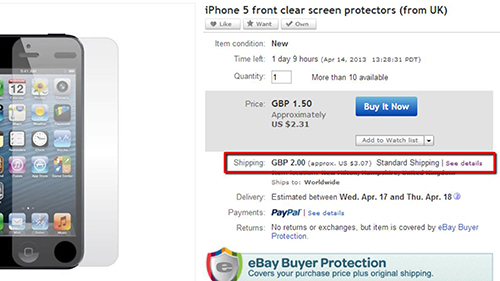 Step # 2 – Finding Different Delivery Charges
You will now see where the item is located and you will be told the default postage charge and how long it will take the item to arrive. To find out how much postage will cost to another country, simply click the drop down box and select a new country – here we are choosing the United States. Click the "Get rates" button to the right and the postage will update. As you can see we are given a new price and estimated delivery date and that is how to work out eBay shipping cost.