Ebay allows customers to contact their staff with questions about any problems they might have while browsing the site or during their purchases. While email support and automated systems are in place to help and guide customers, sometimes you might find that you need to speak to a customer support rep personally. In this case, using the phone might be the easiest and fastest method.
In this tutorial you will learn how to find out what number you need to call and what hours the service you require is available.
Step #1
On eBay.com click the Customer Support Button.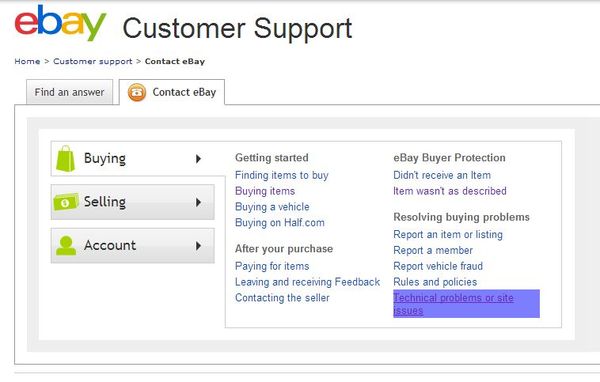 When you are at the Customer Support page click the Contact eBay tab.

Step #2
Select the category that best describes your issue and then click on the appropriate topic.
Step #3
Click the "Call us" button on the right side of the page. Notice that underneath the button, you can find the work hours for the specific service.
Once you click the "Call us" button, a pop up window will appear with a phone number you can call and the unique passcode that you must use. Your passcode is only valid for 15 minutes.