In this tutorial you are going to learn how to easily add a WordPress 301 redirect to your site by using a plugin.
Step # 1 – Installing the Plugin
First, make sure that you are logged into your WordPress admin area. From the menu on the left hover your mouse over "Plugins" then click "Add new". Another page will load and into the search box you need to enter "Redirection" and press return. A list of results will appear and you need to click the "Install now" option beneath the first result. Click "OK" in the dialog box that appears.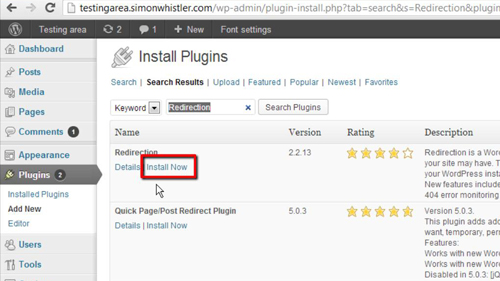 Step # 2 – Accessing the Installed Plugin
You will be taken to another page which will show you the process of the install, once it has finished click on the "Activate plugin" link. You will be taken back to the plugins page. From the menu on the left hover your cursor over the "Tools" option and in the submenu that appears click "Redirection".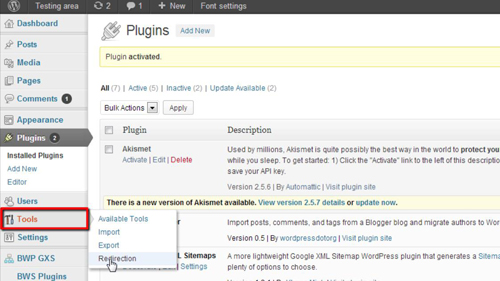 Step # 3 – Getting the URL for the Redirection
You will now see options for a "Source URL" and a "Target URL", this is where you are going to need to enter details of the redirection. Let's open another tab and visit our WordPress site, once it has loaded navigate to the page that you want to redirect visitors away from and copy everything in the address bar.
Step # 4 – Completing the Redirect
Go back to the admin area in the previous tab and paste this URL in the "Source URL" box, below this into the "Target URL" enter the site you want to redirect people to, here we are entering "http://www.google.co.uk". Click the "Add Redirection" button. Now to test this out we will open a new tab and paste the same URL we copied earlier into the address bar, as you can see we are successfully redirected to our target URL – in this case the Google homepage and that is how to setup a WordPress 301 redirect.