There are many reasons why you might decide to move your blog to another platform. This tutorial will show you the steps for doing an import from WordPress to Blogger.
Step # 1 – Navigating to the Export Option
Start at your WordPress site – here you can see that we have a simple blog that we are going to move. Assuming that you are logged into your blog you will see a toolbar at the top with the name of your blog, here "Testing area". Hover your mouse over this area and click "Dashboard" in the menu that appears. On the new page locate the "Tools" tab on the left, mouse over it and in the options that appear click "Export".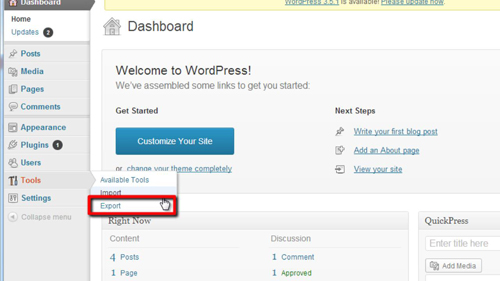 Step # 2 – Converting the WordPress Blog
On the next page click the blue "Download Export File" button and wait for it to download to your machine. Now, open a new tab and visit the site "wordpress2blogger.appspot.com", on the page that loads click the "Choose file" button and locate the file we just downloaded from WordPress on the computer and click "Open". Now, click the "Convert" button. The file will begin to download, if any security questions appear, allow the file to continue to download.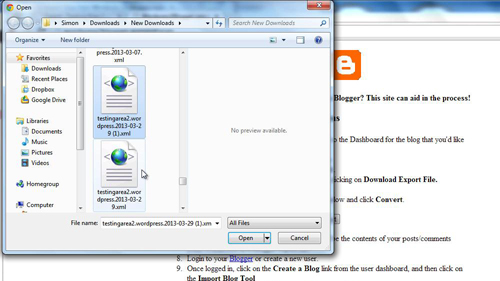 Step # 3 – Creating a Blog on Blogger
Now we are going to need to import this file into our Blogger account, visit the site "www.blogger.com" and make sure that you are logged into your account. Click the "New Blog" button and enter a title and web address for the blog, click the "Create blog!" button. Wait for a moment while the blog is created.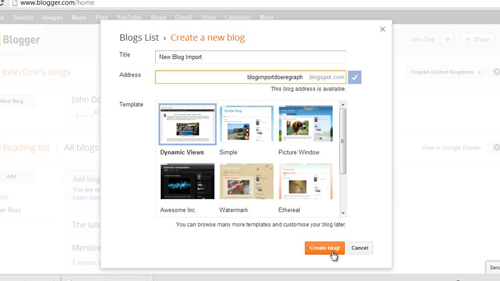 Step # 4 – Importing the Blog
In your new blog click on the "Settings" option in the menu on the left and click "Other" in the list that appears. On the right click on the "Import blog" link and in the window click "Choose File" and locate the "blogger-export.xml" file on your computer. Now, enter the CAPCHA code and click "Import Blog". Now click the "View Blog" option at the top of the page and you will be redirected to your new Blogger page that has all of the data that was in your previous blog and that is how to import from WordPress to Blogger.