WordPress provides you multiple options to change the visibility of your WordPress blog for the Search engines and viewers. We can keep wordpress blog private by changing its visibility. In this case, only invited viewers can view the word press blog. In this tutorial on "how to keep wordpress blog private, we will guide you on how wordpress make blog private with some options given to us.
Step 1 : Go to "Readings" option
In order to make your WordPress blog private, open your browser and go to your blog's administrative dashboard. Locate the option "Settings" from the panel and hover your cursor over the tab. A menu will appear. Click on the "Readings" option from the menu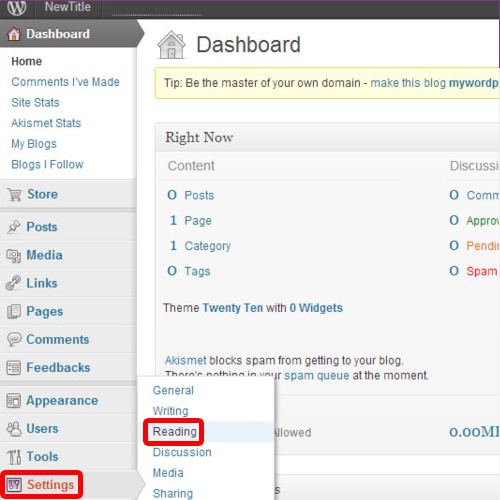 : Go to "Readings" option
Step 2: Change Visibility Settings
Once you have clicked on the button, the "Reading" page will open. Here you can find three options for site visibility. The first option "Allow search engines to index this site" includes your blogs in the result of engines used for searching. It is also available to everyone on the internet to read and view.The second option "Ask search engines not to index this site" blocks the search engines to search your blog and display it on their result searches. However, the general viewers can still access your blog and read or view it.The third and the last option "I would like my blog to be visible only to users I choose" used by WordPress to make blog private. Only the users who are invited to view the blog can access it. As far as the search engines and general viewers are concerned, the blog will not be displayed. Click on the "Save Settings" button located at the bottom of the page to save the settings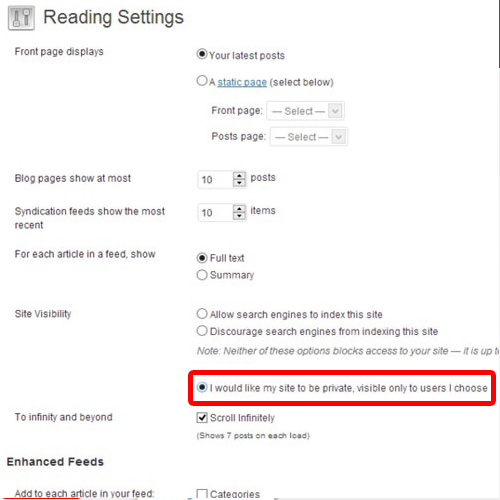 :Choose "I would like my blog to be visible only to users I choose"
Step 3: Verify
The last step of the tutorial "How to keep WordPress blog private" is to verify that your blog has been changed into a private mode. In order to check the result, open a new browser window and access your site. WordPress will show the login page which states that you need an invite from the admin in order to view the site. Now your blog has been changed into a WordPress private blog and only those viewers can view it who get an invite from the blog's admin.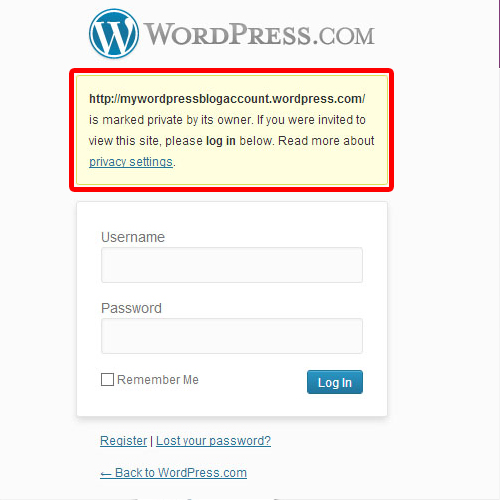 : WordPress blog changed to private blog