Almost every blogging platform offers a tool which allows you to send newsletters to the visitors. Same is the case with WordPress. In this tutorial, we will teach you how to install and use the wordpress newsletter plugin.
Step 1 – Install a new plugin
First of all, we will need to download a wordpress plugin for sending out newsletters. In order to do so, go to the plugins tab and then click on the "add new" button.
In the search bar, type "Newsletter" and then click on the "Search Plugins" button.
Click on the "Install now" button against the desired plugin to proceed. A confirmation message will pop up; click on the OK button to proceed further.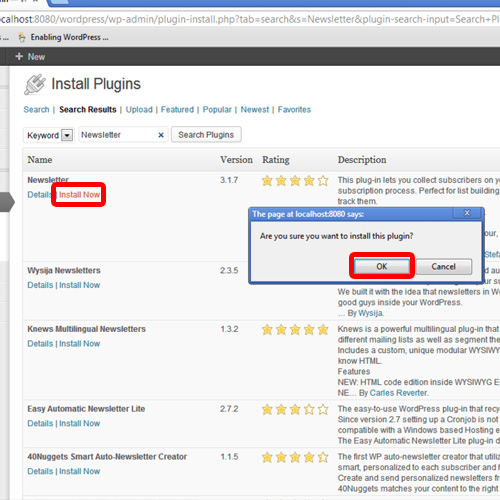 Step 2 – Go to newsletter plugin
After that, the plugin will be downloaded and installed. Just click on the Activate option to activate the plugin.
After activation, the page will refresh. The recently installed wordpress plugin tab appears on the left hand side of the screen, right below the Settings Tab.
Hover the mouse over the recently installed plugin and click on Configuration.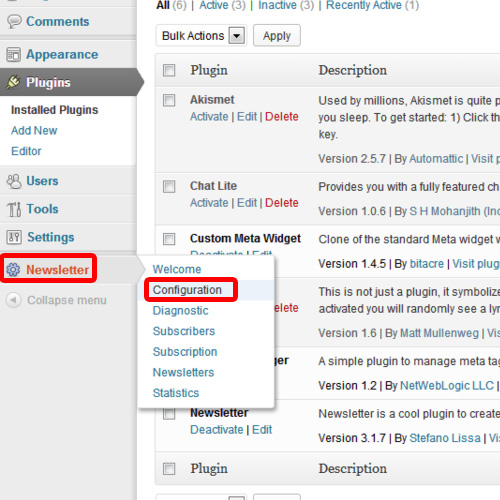 Step 3 – Specify the email address
Now, provide the appropriate email addresses in the required fields in order to properly configure the plugin and then save the changes which have been just made.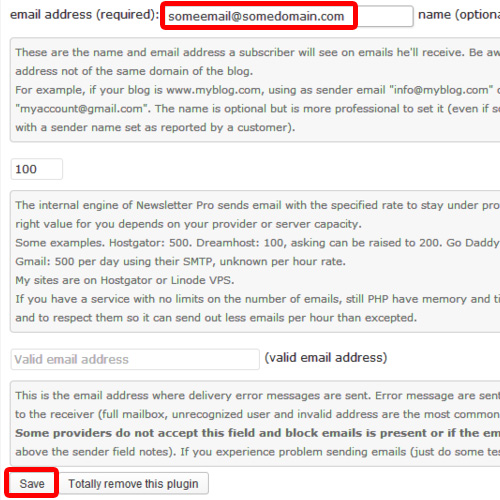 Step 4 – Start a New Message
In order to send the newsletters, click on Newsletter option available under the Newsletter Tab on left side of screen. Once the new page loads, click on the new message button.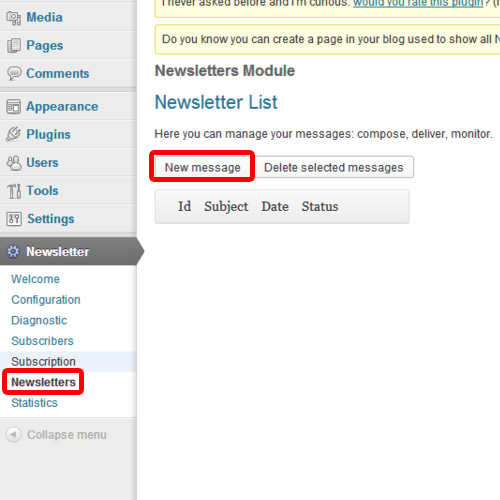 Step 5 – Set a theme
A new page will open up from where we can choose a theme and preview it as well.
After the theme has been selected, click on the "Create The email" button.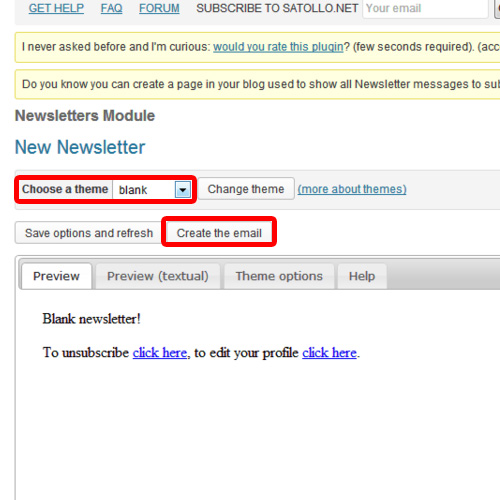 Step 6 – Start Delivery
As a result, the editor will open. Over here, compose the email and then click on the send button.
Once you are done, you will be asked to start a real delivery. Click on the ok button and your email will be added to the queue for sending. This is how you can use the wordpress newsletter plugin.