In this tutorial, you'll learn how to use Hide My Ass to browse the web anonymously. Unfortunately, there is no longer a hide my ass download feature, but you're still able to use the feature through an online proxy.
Step # 1 – Setting up the Proxy
First, go to "www.hidemyass.com", the process is pretty straightforward, but there are some options you should be aware of. First, under the address bar within the hide my ass website, you'll see "SSL Security", this helps in securing online purchases on websites like Amazon.
Switch this "On" for more secure browsing, or leave it "off".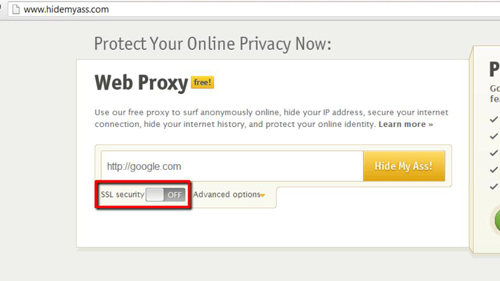 Step # 2 – Advanced Options
Click "Advanced options". Now under "Proxy server settings" you can select a "Server" and a distinct "IP address" if you want your browsing to appear to be coming from the same IP address every time.
Under "URL Obfuscation" you can select "Encrypted", this will ensure that nobody can see the address of any website you view through Hide My Ass, even in your web history. This may slow down your browsing, so if you don't care just leave it on "Encoded". Under "Other options" you may also choose to disable Javascript or Flash in order to speed up the browsing process.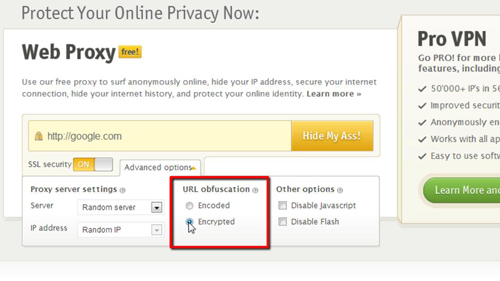 Step # 3 – Browsing Privately
Above all the options, you'll see an address bar within the hide my ass browser page. Enter the URL of the website you wish to view anonymously, and then click "Hide My Ass!"
You will then be redirected to your desired web address through an anonymous browsing proxy. Since there isn't a hide my ass download option anymore, you'll have to use the browser, but it works just as well.