Introduction:
In this tutorial we are going to look at what is Prezi and what you can do to get started with the service.
Step # 1 – Viewing a Sample Prezi
First let's go to the Prezi website at "www.prezi.com". This tutorial assumes that you have already registered with the site, if you haven't, quickly complete the registration process. Prezi is essential a presentation service. One of the best ways to see what the service is capable of it watching one of the samples on the front page. By clicking on one of the thumbnails a new page will load and the Prezi will start to play – you can go through the presentation using the arrows at the bottom.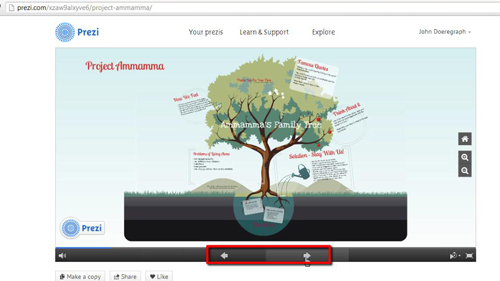 Step # 2 – Loading the Prezi Editor
To make your own Prezi click the "Your prezis" option at the top of the page and then click the "New prezi" button on the new page. You will then need to choose a template and wait while the template loads – this can take a moment depending on the speed of your internet connection.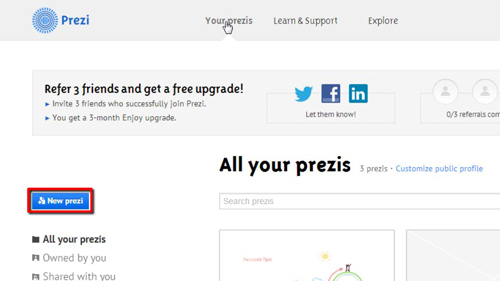 Step # 3 – Editing your Prezi
Although Prezi is different to PowerPoint in many ways, users of the Microsoft program will recognize some similarities, such as the slides running down the left of the screen. You can click on these to edit them. As you click between the different slides you will be moved to that area of the overall presentation – this provides a very nice transition for viewers. Here we are just going to enter some sample information in the first two slides.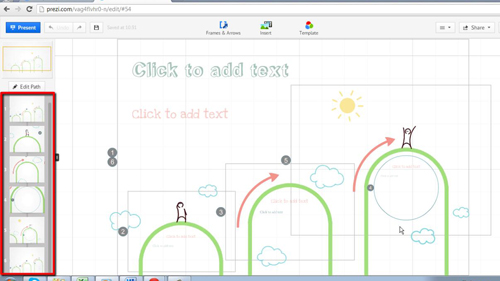 Step # 4 – Changing other Options in the Prezi
As well as putting information into the presentation, you can also adjust a great many other things. It is possible to insert frames, arrows, photos and videos by using the links at the top of the page. The "Edit Path" button will also allow you to change how the slideshow will be viewed.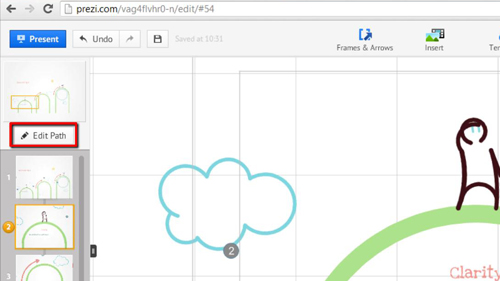 Step # 5 – Presenting your Prezi
Finally, let's have a look at how you would present this to a group of people. Simple click the blue "Present" button at the top left of the page. It will become full screen and you will be taken through your presentation. Press escape to close the slideshow. You can also save this presentation by clicking the "save" icon in the top left. There are also some sharing options in the top right. This has just been a basic introduction to what is Prezi and hopefully you now have a good idea of how to use the program.