In this video tutorial we will show you how to burn a CD/DVD on Windows 8.
In order to burn a CD or DVD on Windows 8, you have to download a specific program. Open Internet Explorer. Type cnet.com. In opened web page. Move mouse to "Downloads" and select "Windows Software". After that go to "Search CNET" window, and type "Nero burnlite". In following window choose Nero Burnlite "Download Now" and click it. Save a file on your hard drive. Wait until download is complete. "Run" the downloaded file.
The setup will offer you to install additional required programs. Click on "Install" and wait until the process is complete. The next window will offer you to install a "Nero Ask Toolbar". Check or uncheck installation options and click "next". In next window you must press "install now" to install "Silverlight". When the "Silverlight" installation process is complete, uncheck "Enable Microsoft Update", and click "Next". Wait until PC restarts. After restart – setup will continue installation automatically. In next window select a "complete" setup type and click "next". Click on to help or not in Nero Product Improvement program and click "Install". Wait until installation process is complete. Open a shortcut on desktop to run the program. Choose "remind me later" in appeared window.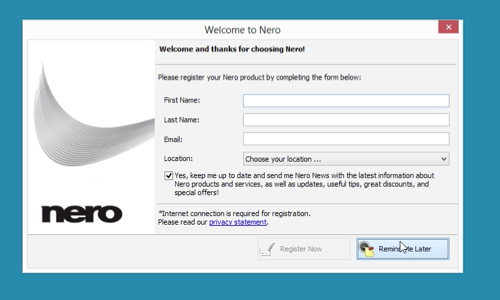 When "Nero BurnLite 10" starts, choose "Data Burning". Click on "add" to choose a file or a folder to add to burn list. After the selection is done click on "Burn" to start burning a CD or DVD.