In this tutorial you will learn how to animate desktop and start screen background in Windows 8. We will use Windows 8.1 version for demonstration.
Do you want to animate desktop and start screen background in Windows 8?

Step 1. To do that you'll, first of all, need to download a DeskScapes app. It's an app that comes for a price of 9.99$, but also has a trial version. You can download it from the link that you see here on the screen: www.stardock.com/products/deskscapes.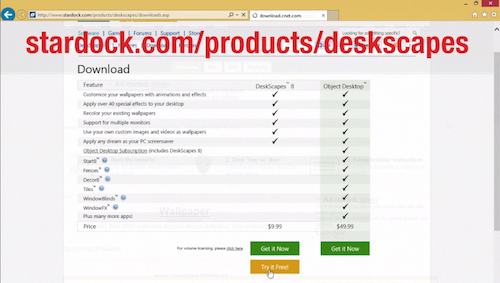 Step 2. After you've downloaded your trial version, install it and run the app on your computer.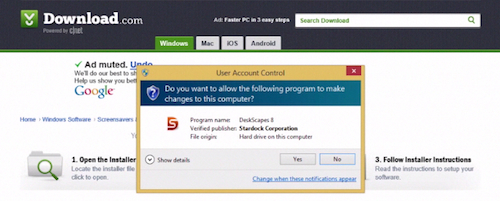 Step 3. Open DeskScapes. On the left of app's menu, you'll see all the wallpapers of the desktop collection and your computer collection, both animated and static. If the wallpaper is animated, it will have a little filmstrip sign in its lower right corner. You can click any of wallpapers to start customizing it. We'll pick one of the animated wallpapers.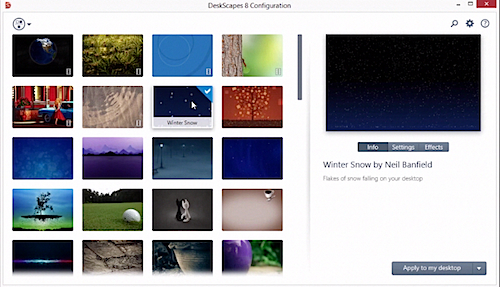 Step 4. Now if we click "Settings" from the right part of app's menu window, the Shapes Configuration dialog window will open up. Tweaking different attributes of the wallpaper in the window will allow you to change the speed of the animation, size of the animated shapes, kind of animated shapes and much more. Click "OK" when you're done.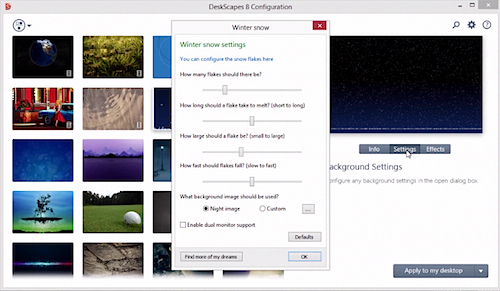 Step 5. Now when you click the "Effects" tab on the right, it will bring up the Effects menu window. For instance, you can add Motion Blur, Snow, Textured and other effects to your wallpaper. These effects work on both animated and static wallpapers, they will even work on your photo that you want to use as a wallpaper:)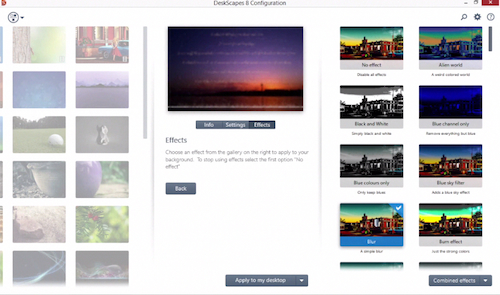 Step 6. To apply your customized wallpaper, click "Apply" at the bottom right corner of your DeskScapes menu window. By the way, if you're using multiple monitors, you'll have the option to apply the wallpaper to all monitors or apply different wallpaper to each monitor:)
Result: Enjoy your customized desktop and start screen background in Windows 8!