Microsoft PowerPoint is one of the most popular office applications which help you to make attention grabbing presentations. By using PowerPoint we can create rich presentations within minutes. PowerPoint slides are capable of using still and animated images, sounds, videos, background music and many other exciting things to make your presentation lively. There are many beautiful sounds available within the PowerPoint application which can help to convey your message. If you wish to add your custom sounds to a presentation, then you can easily find thousands of background music tunes online. There are various websites which are offering free sounds and background music for PowerPoint presentations. Here in tutorial we guide you to add a custom background music file for your slides. For this purpose we choose to use a website called Brainy Betty which has many wonderful sound files available online for free.
Follow the steps given below to learn how to get free background music for PowerPoint.

Step 1 – Logging on to the Website:
First of all open the URL: www.brainybetty.com and then click on "Music for PowerPoint" link available on the left side menu of the window, highlighted in the image below.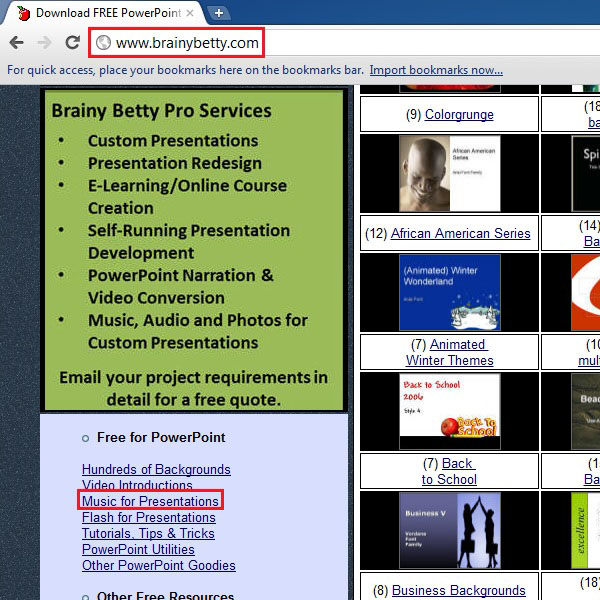 Step 2 – Choose A Music File
In this section you can find a variety of music files available for free. Choose any music file according to your requirements. Here we choose the "Blues" file. Select the file by clicking on it to start downloading.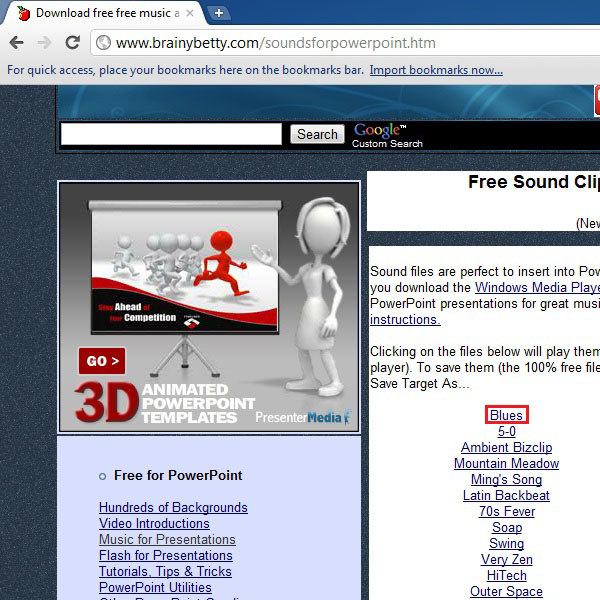 Step 3 – Open The Music File:
Once the file has been downloaded successfully, click on the browser notification and select "Open" from the menu to play it on your default media player. This ensures you that file has been downloaded successfully.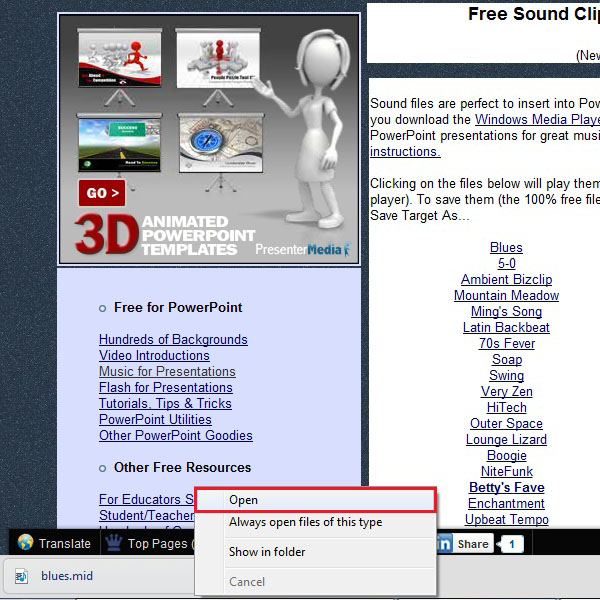 Step 4 – Import in PowerPoint
Now in the PowerPoint window, click on the "Insert" option from the menu on top of the window. Select the "Movies and Sounds" option and then click on the "Sound from file" option from the menu.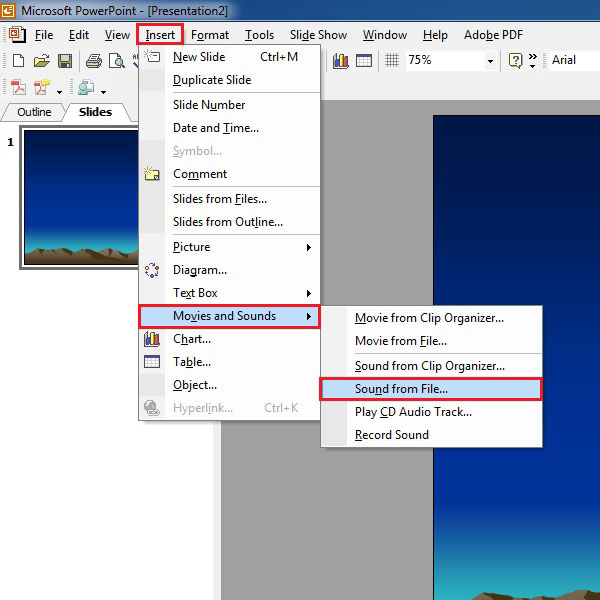 Step 5 – Select Your Downloaded File:
Once the new window opens, browse for your music file which you have already downloaded in the previous step. Select it and click on "OK" to import this file in your PowerPoint slide.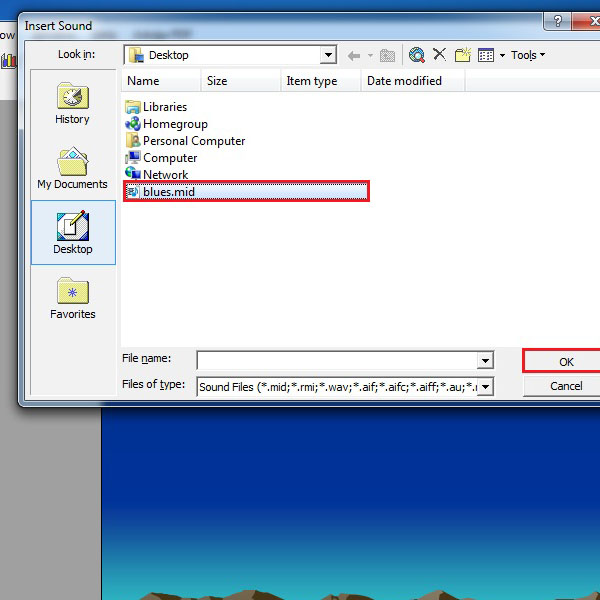 Step 6 – Select the Automatic Play Option
Once you have selected a file, a message will appear asking you to either set this music to be played automatically in background or not. For this tutorial we would be playing the background music automatically. To do so, click on the "Yes" Button.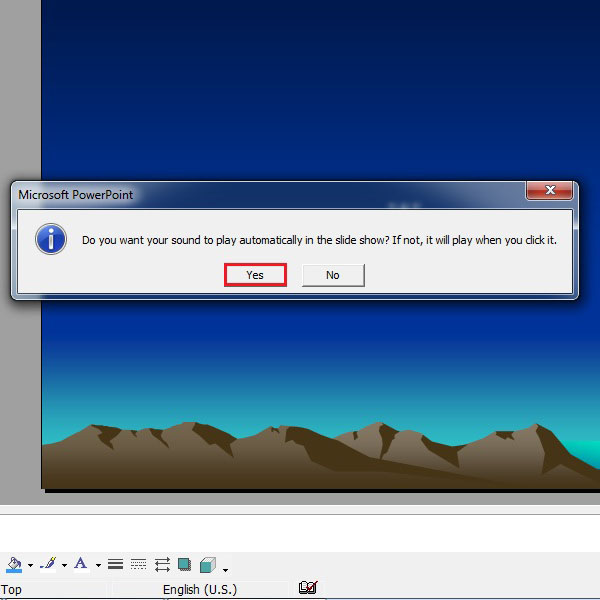 Step 7 – Change Playing Options
If you wish to change the playing mode of the music file, you can right click on the music file icon and select the "Custom Animation" option from the menu.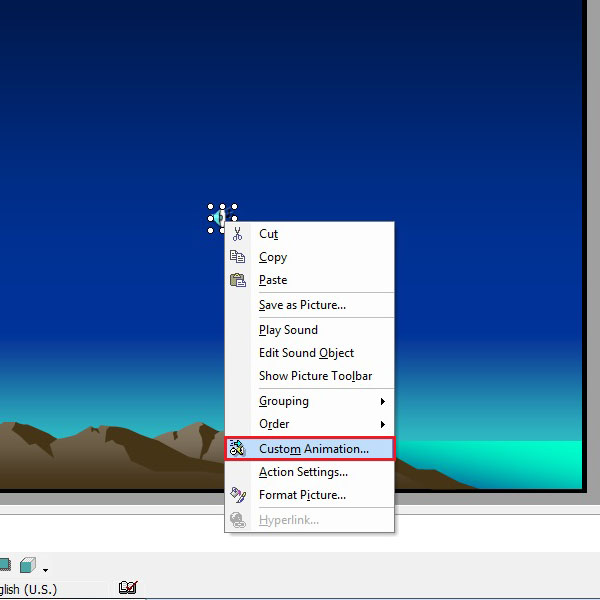 Step 8 – Custom Play Option:
A side panel will open where you can see many options and settings for the music file. Click on the name of your music file from the menu and select the "Start on Click" option. By doing so, your music file will only be played once clicked upon.