Google Docs allows you to upload and create your own spreadsheets. It also allows you to share it with other people who can either only view the document or edit it as well. When the person is viewing or editing the document, Google docs notifies you with a colored box that another user is viewing the file. If you click on the colored box, a chat window will open on the right hand side, through which you can have live discussions with the other viewer who is viewing the file. The two of you can discuss things related to the file. Furthermore, multiple users can work on the same file in real time. Therefore, make sure to communicate the changes to the other viewer in order to avoid repetition.
Follow this step by step Google Docs tutorial to learn How to Chat in Google Docs Spreadsheet.

Step # 1 – Open the file
First of all, open the document that is shared with another user. When you have opened the document, you will be taken to the first sheet of the spreadsheet. On the top right corner of your screen, you will be able to see the number of users viewing the file.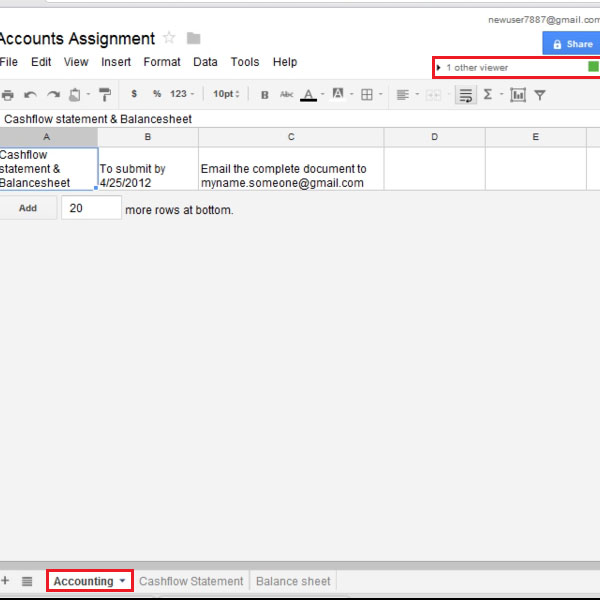 Step # 2 – Click on the viewer window
If you click on the other viewer button, you will be taken to the sheet where he is working. When the other user clicks on the spreadsheet, the box gets highlighted and thus you can see where the user is in the spreadsheet.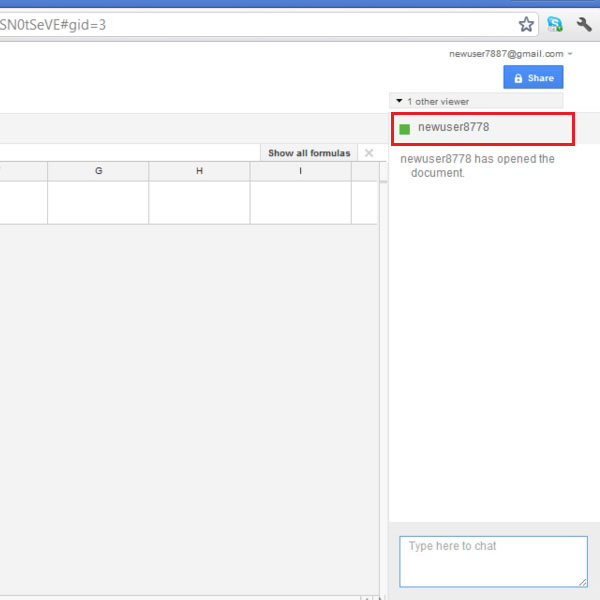 Step # 3 – Hold live discussions
You can also start live discussions with the viewer about the document rather than sending emails. Google Docs allows you to work on the file in real time with the other user. Therefore, at times it becomes necessary to chat with the other user as the two of you are working on the same file side by side.