In this tutorial you are going to learn how to post facebook notes to wall which has been redesigned as the timeline in recent Facebook updates.
Step # 1 – Writing a Note
Navigate to Facebook and make sure that you are logged in. From the menu on the left side of the home page click "Notes". On the right click on the "Write a Note" button at the top of the screen. Enter a title, the body of the note and then click the "Publish" button at the bottom of the page.
Step # 2 – Automatic Note Posting
Click on your name in the top right of the page to navigate to your profile. Scroll down the page a little and you will see at the top of your timeline that the note has appeared, this is essentially how to post facebook notes to wall and as you can see it is an automatic process.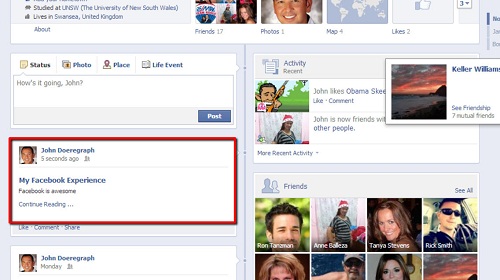 Step # 3 – Opening an Older Note
However if you have written the note in the past and now want to post it, the process is slightly different. Navigate to the home page by clicking the "facebook" logo in the top left. Click "Notes" again and then click the "My Notes" link at the top of the new page. Find the note that you want to post on your wall and open it by clicking its title.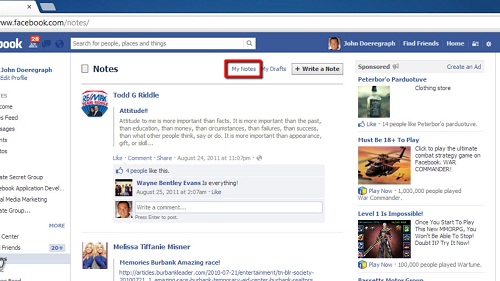 Step # 4 – Linking to the Post on Your Timeline
Now that you are viewing the note, copy the address of it and navigate back to your profile. Paste the notes URL address into the status window, wait for a moment for the note to appear below the pasted link and then click "Post". You will then see that the older post has been successfully added to your timeline.