On Elance.com, Freelance professionals can search the website for potential jobs, research clients, submit proposals and then work through the Elance Workroom, where messages are exchanged and working files are uploaded.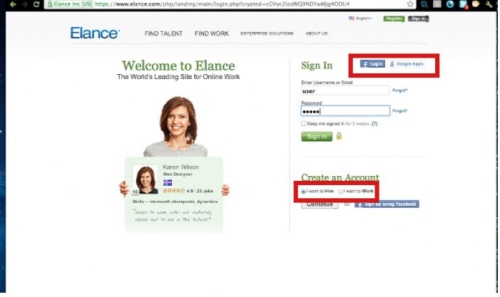 To get started, go to Elance.com and log in to your account. If you do not have an account yet, choose the "I want to work" option on the bottom right and click continue.
If you have a Facebook or Google account, you may also use this option to login.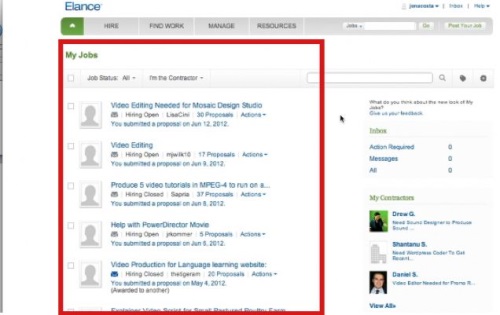 Once you have registered your account and are logged in, you will be directed to your "My Jobs" home page, where a list appears of jobs that you have bid on or are currently working on.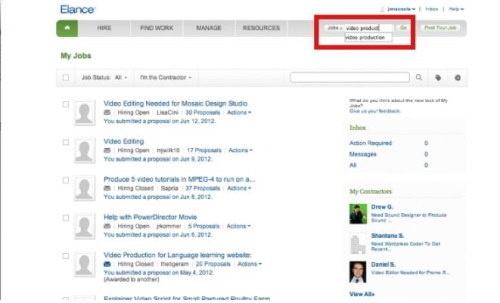 If you would like to search for more freelance jobs to bid on, click on the search bar next to "jobs" on the right. Type in what field of work you are looking for and click "Go" to begin your search.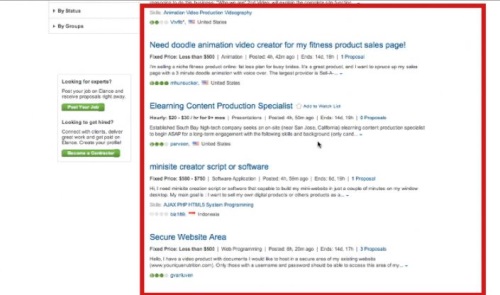 Once the search results have appeared, scan through them and see what jobs interest you the most. You will notice that when you hover over the title of each project, an "Add To Watch List" icon appears. This is a nice tool to use for projects that you want to keep an eye on but not commit to bidding on right away. When you find a project that you would like to read more about and bid on, click on the project's title.
You will be taken to a description page where you can see more details about what is being asked for said project.
To the right, you will also find the "Describe your Proposal" box. This is where you will begin to type your proposal for the job.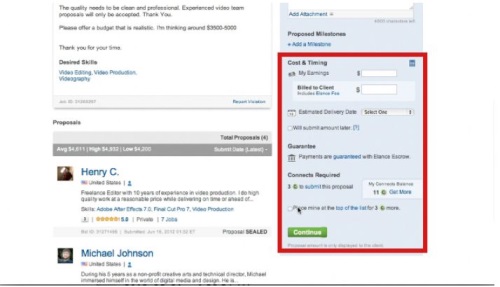 Below this box you may add your hourly rate, if the job requires a per hour payment, or project total, as well as an estimated delivery date.
Click continue when you are finished writing your proposal.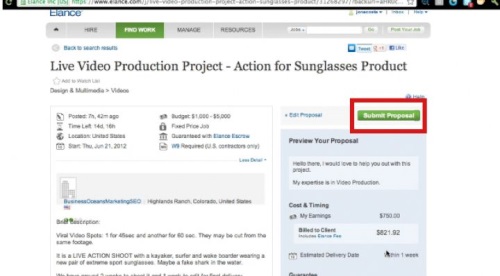 You will finally come to the "submit proposal" page, where you can review your proposal one last time before sending it to the potential client.
If you are happy with all of the information, click continue and your proposal will be sent to the client for review.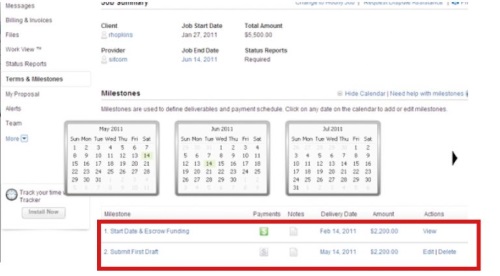 If you are awarded a project on Elance, you will receive a message in your "Elance inbox" stating to accept the terms and agreements between you and your client. If you are satisfied with the terms, click "agree" to begin working on that client's project.
All communication should take place in your project's "Workroom, where you and your client may type messages back and forth between each other, as well as send files and comps of the project that you are working on.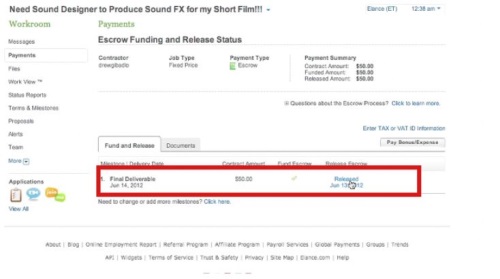 For your security and the security of the client, all payments will be handled through your Elance account.