In this tutorial you are going to learn how to do an IRC search which will allow you to find an IRC that is based on a subject you are interested in.
Step # 1 – Searching by Keyword
One of the best websites for searching IRC chat rooms is "searchirc.com" so visit this website. On the page that loads you will see a search box at the top, you can enter the chat you are interested in here. Here we are going to search for "photography". A list of results will load and the details you need to connect are on the left. You can also see a bit of information about the current popularity of the IRC on the right.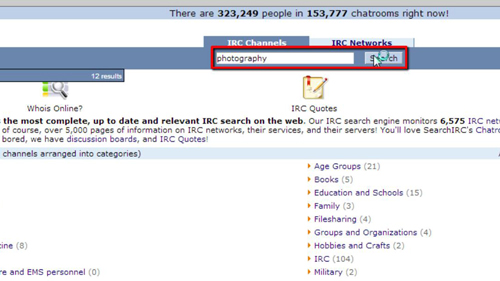 Step # 2 – Searching by Category
It is also possible to search by category, click on the logo in the top left to return to the homepage. On this page you will see a "Chat Directory" with various subjects, click on one that you are interested in, here we are choosing "News and Weather". On the next page you can choose a subcategory (here North America) and then finally you will see a list of results.
Click on the one you are interested in and you will be presented with some information about the chat and that is how to do an IRC search.