Introduction
In this tutorial, we will teach you on what pandora radio is.
What is Pandora radio? Pandora Radio is a website that allows you to specify the artists, music genre or the composer that you are fond of and then plays the music accordingly. It uses your preferences to provide you with the music that you want to listen to.
Step 1 – Go to Pandora.com
So what is a Pandora radio? In order to find that out, open any web browser and go to Pandora.com. Once the web page loads, you can either login if you have an existing account or create a new one. For the purpose of this tutorial, we will register a free account.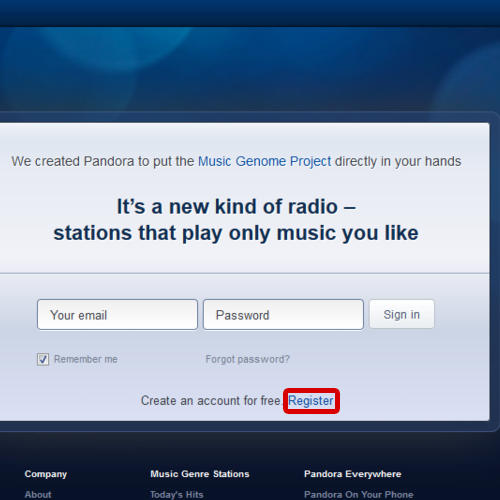 Step 2 – Register a new account
As a result, the registration page will appear. Enter your email and password, birth year, gender and postal code. Check the "I have read and understood the terms of use" option before you click on the register button.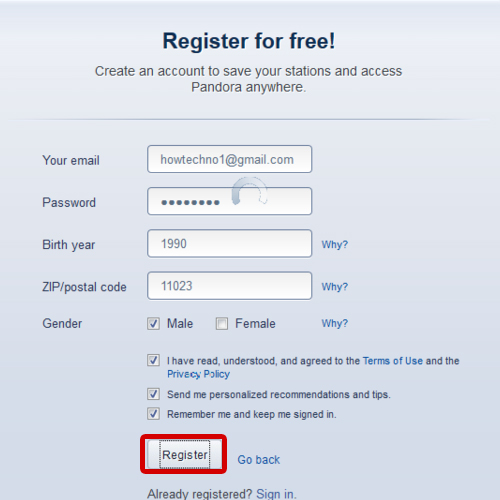 Step 3 – Create a new station
In the next screen, you will be congratulated that you have successfully registered with Pandora radio. Click on the continue button and exit the registration form. You will then be asked to enter an artist, a genre or a composer in order to create a station. For the purpose of this tutorial, we will insert an artist and our station will be created accordingly.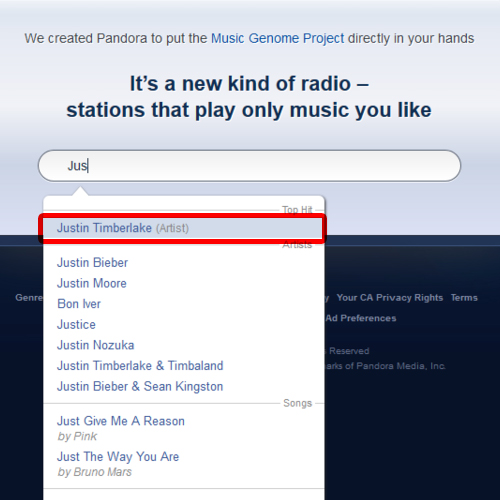 Step 4 – Add variety
As a result, the page will refresh and your station will open. A random song meeting your preferences will be displayed.
You can add other artists by clicking on the add variety button on the top left corner of the page. In the pop up window, you can enter the name of an artist or composer that you want to add. You are also shown suggestions that go with your taste.
Step 5 – View station details
In the left pane, you can always click on the options button and from the drop down menu, click on station details. In this page, you can add a description to your station. This will make it available for other Pandora listeners to find and will also place the station in the search directory. You can add a station seed by clicking on the add button.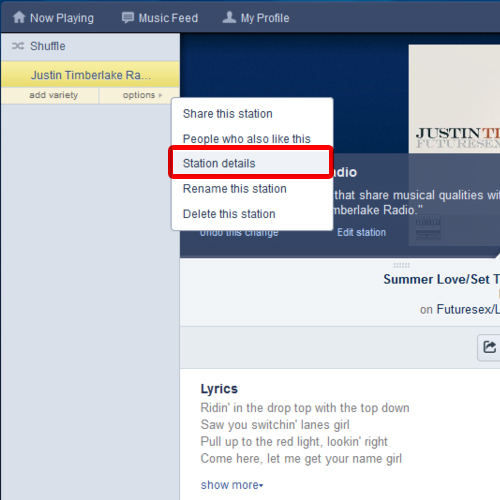 Step 6 – Shuffle songs
Once you are done with the changes, click on the now playing tab in order to return to the station page. Click on the shuffle button in order to refresh the page and shuffle the songs. A new song will start playing. The seek bar can be found at the top where you can play or pause the music. The lyrics are also available of the song here. In order to customize the station, you can thumb up or down a track in order to record your music preferences.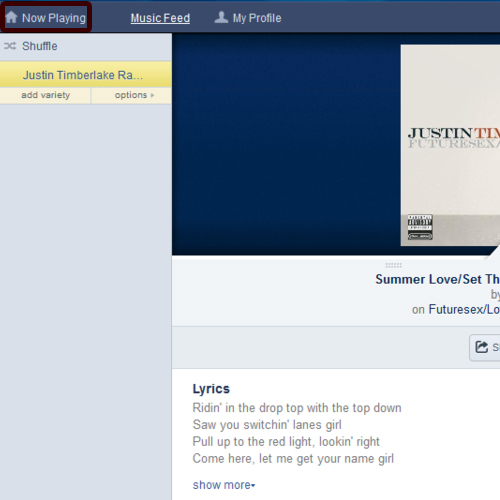 Step 7 – Create a new station
You can always create a new station by clicking on the song thumbnail on the top right corner of the page. From the drop down menu, go to new station and choose from artist or song. As a result, the page will refresh and a new station will be created.