In this video I will show you the simple procedure of transferring photos from your computer to your iPhone using iTunes.
Step 1: Transferring photos from iPhoto
First, open iTunes on your computer and after connecting your iPhone select it in the sidebar. Click on the 'Photos' tab. Here we can select entire Albums or Events from iPhoto. To do so, click on the 'Sync photos from' checkbox, and make sure iPhoto is selected.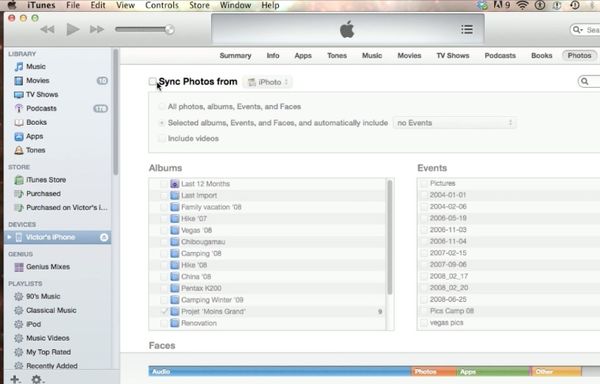 You then have the choice to sync your entire Library (all photos, albums, events and faces), or be more specific with the second option. Clicking on 'Selected albums, Events, and Faces allows you to select from these different groups of photos from your iPhoto library.
Once you have selected which photos to transfer, click on 'Sync' at the bottom right and your photos will be transferred onto your iPhone.
Step 2: Transferring specific folders (without iPhoto)
If you do not use iPhoto, you can follow the same procedure as before but this time select 'Choose folder…' This allows you to select any folder on your computer to be transferred to your iPhone.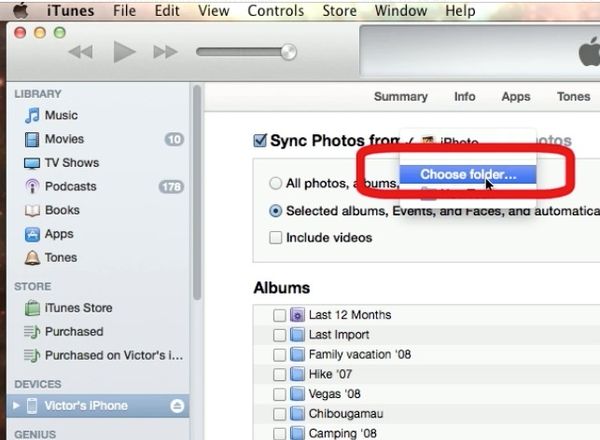 The result is your photos from your computer on your iPhone.
Leave your comments below or contact us by email. This was a HowTech.tv tutorial. Thanks for watching!