This tutorial will show you insert symbol Word which is useful as many symbols are just not available on the keyboard.
Step # 1 – Accessing Symbols
First let's have a look at inserting the degree symbol. As you can see here we have a number and we want to make this a degree. From the tabs at the top click "Insert" and on the right of the new ribbon you will see an icon labeled "Symbol" – click this. You will see several popular symbols below, these are based on what you have used recently. Assuming that you haven't used the degree symbol recently, you'll need to click "More Symbols".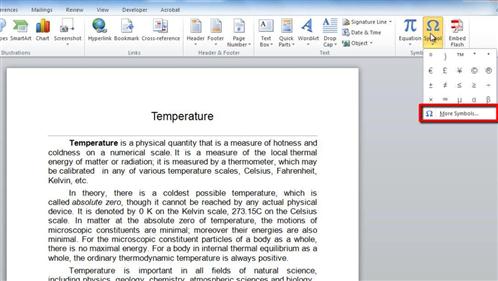 Step # 2 – Inserting the Symbol
The "Symbol" window will appear and you just need to scroll through this until you see the degree symbol. Once you have found it, click on it and click "Insert". The symbol will appear where your cursor is and then you need to click "Close".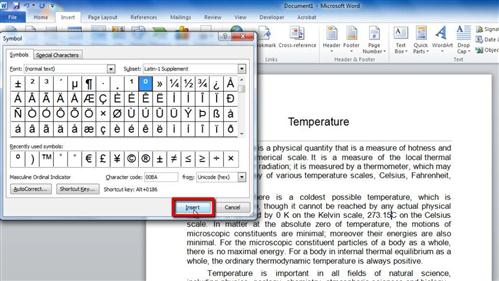 Step # 3 – Using Other Symbols
The process for inserting other symbols is almost identical, just click "Symbol", "More Symbols" and just scroll through the list until you find what you want and insert it and that is how to insert symbol Word.