This tutorial will demonstrate how to quickly check flight status.
Step # 1 – Access the Federal Aviation Administration Website
Go to "http://www.fly.faa.gov/flyfaa/usmap.jsp". This website provides information on flight delays throughout the continental United States. Scroll down, and you will see a blue map of the USA.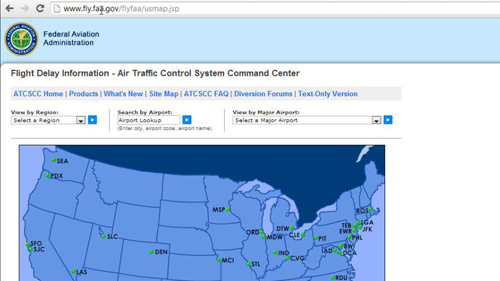 Step # 2 – Using the Map to View Flight Status
On this blue map, you will see a series of dots, most of which will be green. To the right of each dot is three letters, which represent a specific airport. For this tutorial, place your mouse cursor over "ATL" which is in the southeast. Doing so will bring up a yellow box providing information on the flight status for the Atlanta airport.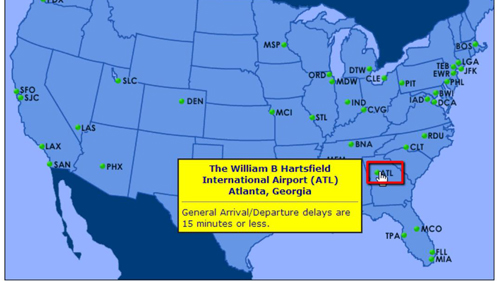 Step # 3 – Interpreting the Dot Colors
While most of the dots on the blue map will be green, some might be other colors. The other colors that may appear are yellow, orange, red and black. On the bottom of the page, look under "Legend," and you will learn the meaning of the different dot colors.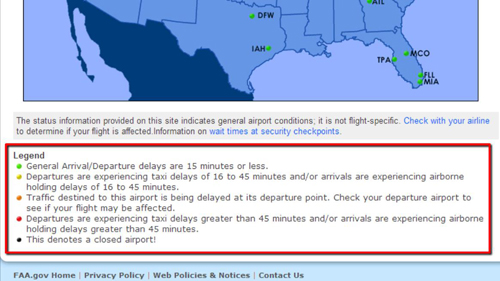 Step # 4 – Searching by Region, Airport or Major Airport
You can also check flight status by searching by region, airport, or major airport. To do this, look at the top of the page, under "Flight Delay Information – Air Traffic Control System Command Center." Beneath the blue links, use the drop down boxes to make your desired selections, then click the blue buttons next to them with the white triangles that point to the right.