This tutorial is going to show you how to find a roommate online using Craigslist.
 
Step # 1 – Navigating to Your Local Craigslist
First, you are going to need to go to your local Craigslist (assuming this is where you are looking for a roommate). Visit "www.craigslist.org" and at the top of the page click your continent, here we are choosing "Europe". Now, select a more specific location, here "London". You will be redirected to the London version of Craigslist and at the top of the page click the "post to classifieds" link.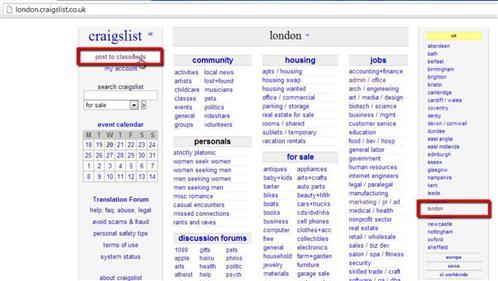 Step # 2 – Entering Information about the Room and Yourself
On the next page click on the "housing offered" option and then click "rooms & shares". You will then be presented with a page that will ask you to provide information about the rental. Enter a price, size, a title for the post and where the room is located. The "Posting Description" is where you really need to give details – these should be a mixture of information about the property as well as you as a person. This will help to ensure that you get a roommate who you are going to get along with.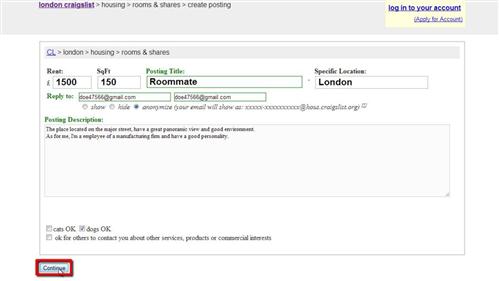 Step # 3 – Finishing the Advert
When you have completed your description select whether you want to allow pets or not and click "continue". You can then add some images of the property if you want. Click "Done with images" then you will have a chance to review your ad. When you are happy with it click "Continue".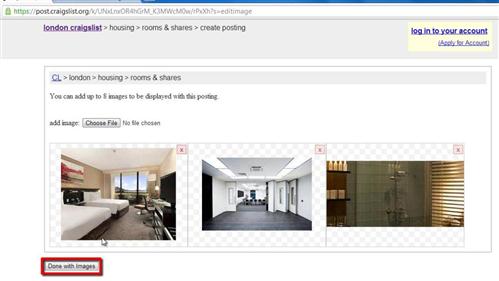 Step # 4 – Finishing the Posting
You will now need to navigate to your email account to confirm the advert. Open the email from Craigslist and click on the link within it. On the tab that opens click "ACCEPT the terms of use" and you will be told that your posting has been completed. To view it click on the link and that is how to find a roommate using Craigslist.