Having your website listed in Google is essential if you want to start attracting visitors to your site. This tutorial will show you how to let google know about your website.
Step # 1 – Visit the Submission Page
First, you need to navigate to the part of Google that is going to allow you to submit your content, visit "www.google.com/submityourcontent". This will show you a page with four major options, you want to choose the one on the left marked "Website Owner", at the bottom of the frame click "Participate".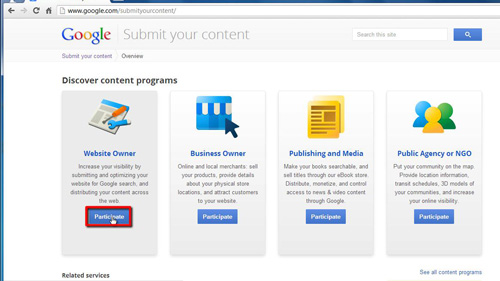 Step # 2 – Adding the URL
You will be directed to the "Website Owner" section where you will have a few more options. Under the "Web" heading click the "Add your URL" button, on the next page you have to enter the URL you want to index, enter the CAPTCHA test and then click "Submit Request". You will be informed that the request is being processed and that is how to let google know about your website.