In this tutorial you are going to learn
how to edit pdf in Acrobat XI.
Step # 1 – Start Acrobat XI and open the pdf file you wish to edit
Start Acrobat and open a pdf document by choosing the "Open…" icon found on the Welcome Screen. The Welcome Screen is present when no document is open. It allows you to begin common work flows in Acrobat XI with a single click. The "Open…" icon is found on the left side of the Welcome Screen, just under the Adobe Acrobat XI title bar.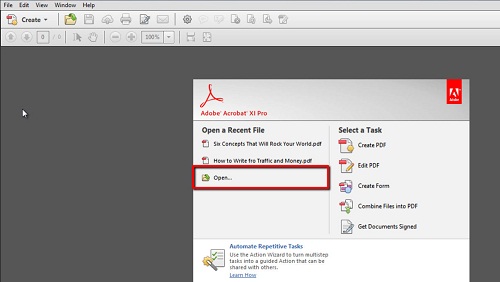 Step # 2 – Activate the editing tools and make your changes
Once your document is open, click on the "Tools" pane, which will slide into view from the right. In the tools pane, select the "Content Editing" panel. In the Content Editing panel, select "Edit Text & Images". All the text boxes and images will be highlighted on your document. Make your changes and choose "File -> Save" to save the changes. This is
how to edit pdf in Acrobat XI.