Introduction:
In this tutorial you are going to learn how to do Facebook symbols art which is actually a relatively simply process.
Step # 1 – Copying the Text Art
This type of art, also known as ASCII art, was popular many years ago and is enjoying a comeback on Facebook. To place some onto your profile its best to go to a resource with this sort of art, visit the site: "http://fsymbols.com/text-art". Here you will find a huge range of text art and you can easily copy one to your keyboard by clicking into the text image and then pressing "Control" and "C" on the keyboard.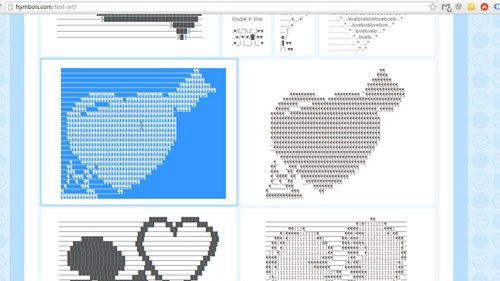 Step # 2 – Pasting the Text Art into Facebook
Now, to place this into your Facebook profile, go to the homepage of the site and into the box that reads "What's on your mind" at the top of the page paste all the information you just copied and click "Post". The Facebook symbols art will appear below and to view it in full click the "See More" option and that is how to insert text art into Facebook.