In Google docs you can upload power point presentation as well as create them. You can share an online presentation with people by giving them rights to view the document. When giving a presentation, you might want to add some notes to specific slides in case you forget some points. In the speaker notes section, you can always jot down the points on which you need to emphasize more. You can do all this in Google docs by creating your speaker notes.
Follow this step by step Google Docs tutorial in order to learn how to play a presentation and add speaker notes to the slides in Google docs.

Step # 1 – Add speaker notes
In your Google docs, select the presentation in which you want to add speaker notes. Open the presentation and at the bottom of your screen, you will see an option to add your notes. Writer speaker notes for each slide in the box available at the bottom. Once you have made the changes in your document, it will be saved automatically.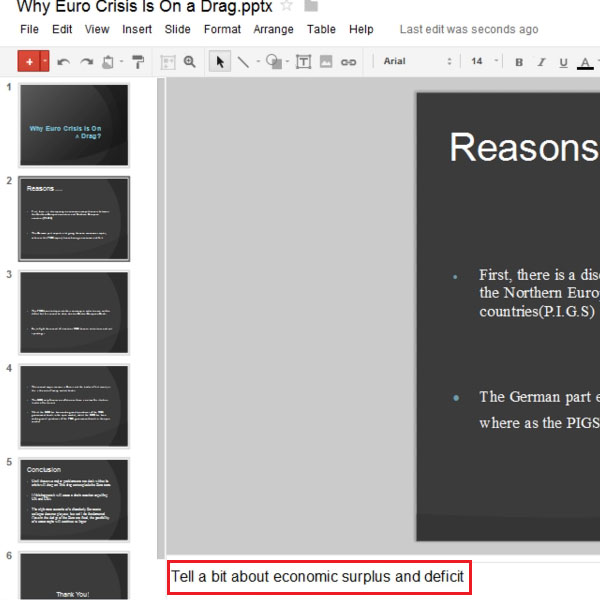 Step # 2 – Start presentation
Once you are done writing the speaker notes, you can view your presentation by clicking on the "Start presentation" button which is located at the top right corner of your screen. Your presentation will start in a new window.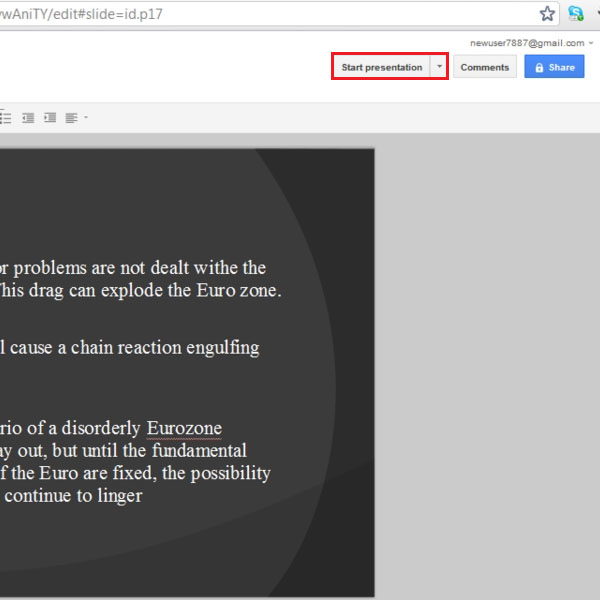 Step # 3 – Open Speaker notes
When the new window opens, your first slide will be displayed. At the bottom of your screen, you will find a few options to work with. The play button allows you to play your slides automatically after a certain time interval. You can use the side arrow keys to manually change the slides as well. Click on the "settings" button and you will have the option of printing the file, downloading it or opening speaker notes. Select the "open speaker notes" option from the drop down menu.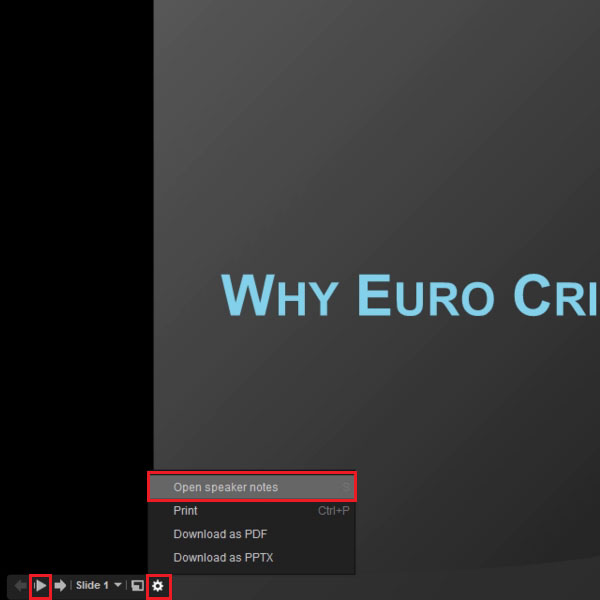 Step # 4 – View speaker notes
The Speaker Notes will open up in a small which will show you your elapsed time along with the current slide. The option of changing the slides will also be available in this box and your speaker notes will be displayed on the right side of the box. When you will change your slides, the speaker notes will change accordingly.