Learning how to stop facebook from publishing recent activity only in the news feed is actually no longer possible due to updates to the social network. This tutorial will show you how to prevent some people seeing this information, which is the next best thing.
Step # 1 – Navigating to Privacy Settings
Go to Facebook and make sure that you are logged into your account. Click the gear icon that appears in the top right of the screen and in the menu that appears click "Privacy Settings".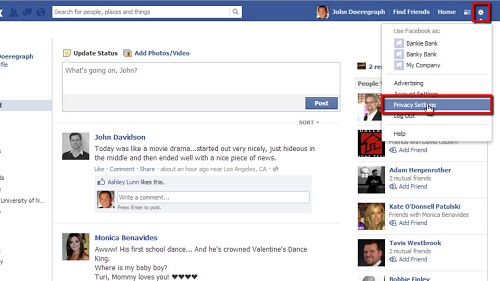 Step # 2 – Preventing Any Information Being Published
Click the "Edit" button to the right of the option that reads "Who can see your future posts?". As you can see here we have it currently set to public which means that everyone can see our posts. To stop Facebook publishing our recent activity completely click on the drop down button that currently reads "Public" and select "Only Me".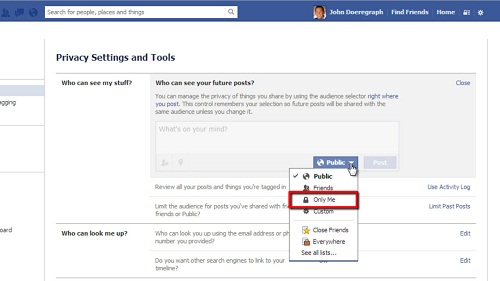 Step # 3 – A Middle Ground
This is a touch impractical if you do want some information to be published, just not the most recent. A good middle ground is to prevent just some people being able to read your recent posts. From the same drop down menu select "Custom" and from the drop down menu select "Specific People or Lists…". You can use this window to customize who can see your new posts, either share it with just a few people (using the top box), or block someone from getting your recent posts by using the bottom one. Click "Save Changes" and that is as close as you can get to learning how to stop facebook from publishing recent activity.